Some physician openings have always been hard to fill, but with a growing physician shortage and many physicians considering early retirement, it can be especially difficult to recruit the clinicians in the specialties you need. Despite these challenges, two rural healthcare systems have found success in recruiting for hard-to-fill positions by thinking creatively and taking advantage of changes in the recruiting landscape. Here are seven strategies for recruiting hard-to-fill physician specialties.
1. Educate providers about life in your community
Marshfield Clinic Health System and Sanford Health are both located in rural areas — a fact that can be a negative for some physicians who've trained in big cities. Recognizing that many candidates have misperceptions about rural life has been the first step in showing them what it can be like living in a smaller city or town.
"I think there's a misconception that because we're rural, we're too small," says Mary Jo Burkman, FASPR, senior director of physician recruitment at Sanford Health, which operates in the Dakotas and Minnesota. "We are smaller in size, but we have cultural diversity, entertainment, and restaurants, and our schools are outstanding."
The same is true for many of Marshfield's locations in Wisconsin, says Jennifer Waters-Plemon, physician and APC recruiter and onboarding team lead. "In a town of 20,000, we have 300 physicians, and they all have kids, so it's really a true melting pot of people from all over the world," she says.
2. Showcase your facility
It's essential to pique your candidates' interest right away, especially if your organization isn't well known. By visually showing them what your facility looks like, it can help break the stereotypes they have about rural healthcare.
"We do a good job of sending videos and links to our physicians when they first apply so they can get a visual of what the site looks like," says Waters-Plemon. "We send them aerial footage of the institution so they can walk through it. I think giving them as much of that information upfront as possible really draws them to be interested in the opportunity."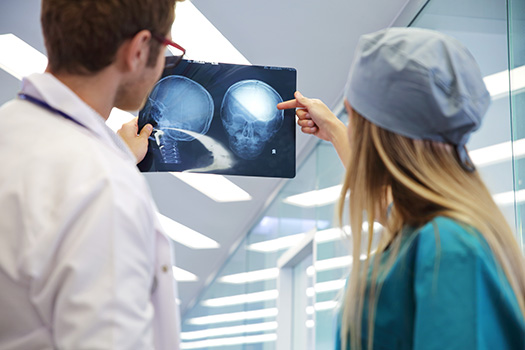 3. Mention other career opportunities
When physicians think of practicing in a new community, they might not know about other opportunities such as research or teaching that may be available to them.
At Marshfield, there are several options for physicians, says Waters-Plemon. "We have our own residency programs, and we have a huge research institute. If research is something a physician is interested in, they can do this while practicing at any of our locations."
Waters-Plemon also highlights the ability of Marshfield's clinicians to teach and practice medicine while balancing family life: "They can teach, they can have a practice, and then be home in 10 minutes and not have a one-hour commute. It's the best of both worlds; they can practice and be teaching, but then be home in time for family things."
4. Use your own physicians for referrals
Recruiters at Marshfield use a variety of applicant sourcing tools, including search firms, outreach to program directors, emails, and their own internal referral program.
"We have over 700 physicians," says Waters-Plemon, "so we send them the list of openings and ask, 'Is there anyone that you know?' It works because each specialty has their own area, whether they go to their own career site or through word of mouth."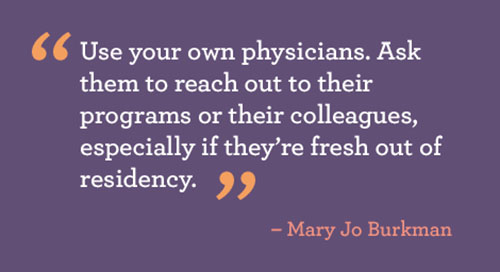 At Sanford, they also reach out to their physicians to advertise openings. "Using your own physicians as recruiters is a great idea," says Burkman. "Ask them to reach out to their programs or their colleagues, especially if they're fresh out of residency."
5. Take advantage of virtual recruiting
Many facilities have taken advantage of the wide acceptance of virtual tools to draw interest from a wider range of candidates.
Sanford's recruiters have attended multiple virtual career fairs, and Burkman has noticed they've been more successful recruiting candidates this way than in the past. "As a resident or fellow, I think it's easier to go home and put on a pair of sweatpants and sit in front of the computer and be talking to three or four recruiters at the same time," she says.
While Burkman concedes she prefers speaking with potential recruits in person, by going virtual it has allowed candidates to attend career fairs all over the country, not just in their local community.
Virtual recruiting has also helped Marshfield bring in more candidates. "We've gotten more candidates that are at least interested because there's less commitment on their part to fly out here to check it out," says Waters-Plemon. "So we kind of get them on the hook a little bit sooner, and then they come and see the facility and the community and say, 'This is something I could see myself doing.'"
RELATED: 8 ways to reduce your days to fill
6. Use a contingent staffing agency
When recruiting for a hard-to-fill specialty, a contingent staffing agency can extend your reach without adding to your workload. And because you only pay for the service when a position is successfully filled, there's little risk incurred.
Both recruiters said they use staffing agencies when they have a position they need to fill quickly, or when they have a position that they haven't been able to fill on their own.
"For some of those tougher searches, a contingent staffing agency is another sourcing tool within our toolbox. Maybe they have a different database of candidates that they can touch base with. We as recruiters have over 30 openings apiece, so our time is spread thin to begin with, and if we can have someone else helping on our behalf, that's great," says Waters-Plemon.
Waters-Plemon says they've used staffing agencies to help fill openings that are less desirable and don't draw as many candidates, such as an orthopedist position in a small town. "I've had the position open for two years and didn't have any candidates until I reached out to CompHealth," she says.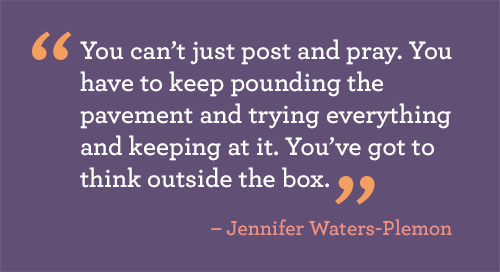 7. Think outside the box
When recruiting for hard-to-fill positions, says Waters-Plemon, "you can't just post and pray. You have to keep pounding the pavement and trying everything and keeping at it. You've got to think outside the box. I'm actually doing a podcast ad for SRNA students letting them know about our CRNA opportunities."
Whether it's a virtual tour, reaching out to residency programs, or partnering with a staffing agency, every step you take to reach out to new candidates will get you that much closer to finding the right hire.
CompHealth can help you find the physicians and advanced practice providers you need for your healthcare facility.
Updated June 06, 2023