The coronavirus has changed many aspects of healthcare, including how hospitals and clinics recruit new healthcare workers. With concerns about travel, social distancing, and even some states requiring a 14-day self-quarantine for visitors, virtual interviews have taken the place of on-site visits for many healthcare facilities. Here are six virtual interviewing best practices that will help you stand out from the competition in your next virtual interview.
1. Do a test run
Christy Ricks, senior director of provider recruitment for LifePoint Health, stresses the importance of a pre-interview test run. She says, "Test the technology before the day of and make sure a firewall isn't blocking something. It seems like a no brainer but when you're logging in and it doesn't work, it doesn't look good."
Whether it's Zoom, Webex, Skype, Google Meet, or something else, download and try the app you'll be using before the interview starts to make sure the app has the necessary permissions to access the camera and microphone. If possible, try using the app with a friend or family member on another device to ensure you're comfortable with logging in and using the controls — like how to mute and unmute the camera and microphone.
2. Choose your interview space wisely
Being memorable in a bad way isn't something you want. In a virtual interview, you create the environment, and the environment reflects on you. What shows up behind you can be distracting — like bulletin boards, posters, or other clutter — but a blank wall can be just as bad, giving your image all the warmth of a police mugshot. A quiet, well-lit place where you can be undisturbed by external noise or family is the best option.
It helps to have a background with three-dimensional depth. Typical office décor works. A couple of potted plants or a bookcase can add to the appeal without the distraction.
3. Dress professionally
Dress in professional attire, just like you would for an in-person interview. Solids, not patterns, are better, and avoid bright colors. Men should wear a suit jacket and light-colored shirt. Ties are optional but add to a professional appearance. Women's wear should be equally conservative. If you wear jewelry, avoid anything that calls too much attention to itself.
Even well-fitted clothes can appear unattractive. Avoid "collar creep," the collar of your suit jacket rising up around the nape of your neck, by pulling the jacket down in the back and sitting on it. You will look more polished.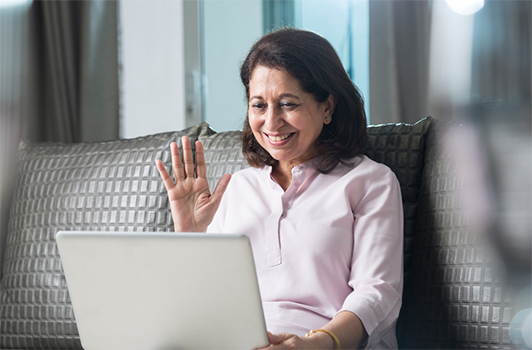 4. You and the camera
Your head and shoulders should nearly fill the screen with your camera at eye level. Look into the camera, not at the screen which hurts your connection with the interviewer. If the camera is located on the top of your monitor, try reducing the app window and moving it so the person on-screen is near the camera. If your camera is located elsewhere, putting a picture of a friend or loved one near it will give you a focal point and even help you smile, an important asset in an interview. Proper posture on your chair is as important here as in-person.
5. Think of it as an in-person interview
Virtual interviews require as much prep as in-person interviews, even though they're often shorter. Rehearse answers to questions you'll likely get. And just as you wouldn't read off notes in an on-site interview, don't do so during the virtual interview, not even hidden ones. Your scanning eyes tell all. You can take notes during your interview just as you would in-person. Make sure you record the names and titles of the people you meet virtually — especially if there are multiple interviewers — to help you remember names and keep them straight.
If you are taking notes, be sure to tell the interviewer what you're doing. If it looks like you are doodling or distracted, it can hurt your chances. But if they know what you're doing, it shows that you are taking the opportunity seriously and gives you material to refer back to for follow-up interviews.
6. Ask about a virtual tour
Don't be shy asking for videos they may have of the area, facility, or personnel. "We will take an iPad and walk through the hospital," Ricks says, "And our facilities have made multiple YouTube videos. The CEO and the practice manager of the clinic have done some great welcoming videos. It's like the candidate is there."
It's important to remember that they are trying to impress you as much as you are trying to impress them. They'll appreciate your interest in their facility and community. Plus, it will help you learn more about the opportunity and whether it's right for you.
Virtual interviewing can be a winning solution for both the interviewer and the employer doing the hiring. Ricks says, "It's been very successful. We have had physicians sign their employment agreement even though they haven't come on site."
Looking for the perfect job? CompHealth can help! Give us a call at 800.453.3030 or view today's job opportunities.