You may have the clinical skills and required experience, but if you want to land the perfect physician job you will need to stand out from the competition. Even for highly sought-after specialties, healthcare facilities are looking for more than just someone who can see patients and perform procedures; they want candidates who will make a positive impact on the organization and the community. Here are the top 10 things recruiters are looking for when hiring a physician.
1. Longevity
"Healthcare facilities want someone they feel is going to stay. They look for physicians who either have family in the area or have a compelling reason to stay. Maybe they're a windsurfer and this community has the very best place to windsurf, for example," says Lisa Goldstein, a senior physician recruiter for CompHealth. Over the past 15 years, she has helped hundreds of physicians find hospitalist and emergency medicine positions throughout the United States.
"Facilities want to know that there's something about their opportunity that's attracting the doctor enough to make them stay," she says. That reason could even be financial in some cases. "A doctor may want to be there because he has $500,000 worth of student loans, so he'll stay there for five years because they offer a $20,000 loan repayment bonus at the end. That can be a compelling reason for some physicians."
2. Community fit
Goldstein says rural hospitals in particular recognize that fewer physicians are interested in positions there, which means community fit is especially important for these hiring managers.
"The hiring managers sometimes feel the doctor is not going to stay because they're not going to be happy in their community," Goldstein explains. "You have to set yourself apart from the other candidates by explaining why you want to be there."
RELATED: How to get a physician job with a J-1 visa
3. Flexibility
The COVID-19 pandemic has demanded a lot from healthcare organizations. While clinical skills continue to be important, Goldstein points out that hiring managers are also looking for physicians who can be flexible.
"Showcase that you're willing to adapt to a situation. Every hospital has been feeling the pain of COVID-19 over the last two years, and some physicians were rigid and only wanted to abide by what their contract and job description said," Goldstein recalls. "If you are, in fact, adaptable, put a summary at the top of your CV about how important it is to adapt to current situations."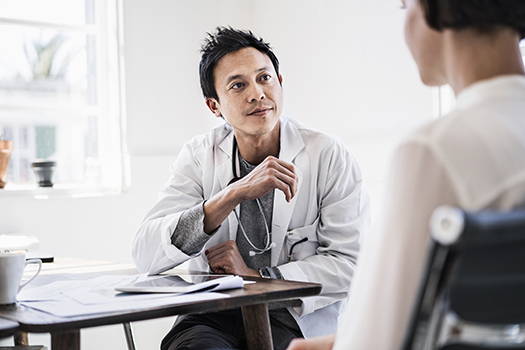 4. Growth mindset
Hiring managers also appreciate physicians who want to improve their own skills and are interested in helping the hospital become more successful.
"Groups like physicians who want to grow with them and want to be involved in making the program better. If you take on challenges and have a future goal of moving into leadership or committee involvement, include that in your CV," Goldstein says.

When talking about your interest in leadership in your interview, however, Goldstein says it's important to be cautious. If a decisionmaker interviewing you is next in line for a position but won't get it until the current leader moves on in five years, they won't appreciate you saying you want to be a leader in two years.

"Say, 'I'll do what it takes to make the program successful, my leader can count on me, I've been very involved in committees and helping the strategic goals of the group,'" she explains. "Say that you're always looking for growth opportunities and bringing knowledge from other programs. Groups like stability. They don't want a job hopper, they want someone who wants to dig in and bring their experience there and stay."
5. Tech-savviness
If you pick up new technology quickly, Goldstein says, make sure you mention that in an interview and also include details on your CV.
"There are a lot of physicians out there who are not as tech-savvy. If you're well-versed in EMRs and know more than one system, list them," she says. "There's probably technology we're not even thinking of that's going to be adapted into practice moving forward."
6. Practice fit
Some private practices want physicians to see the highest number of patients to get the maximum profit, while hospitals often look for physicians who are patient-focused, Goldstein explains. She encourages doctors to ensure their CV reflects the job they'd like to get and that they're honest in interviews about the way they prefer to work.
"You want to showcase who you are and what model practice is right for you. Right now, we're seeing a huge shift towards hospital employment, but private practice and contract groups are other options. Do you want stable employment and a moderate salary, or do you prefer to roll up your sleeves and see a larger volume of patients and make a higher income?" she says.
Depending on the type of practice, you can emphasize both people-focused traits and efficiency. "If you have teaching interest and you like working with residents or mentoring others, even if it's not an academic program, I think that's important. Everyone wants someone who is helpful and willing to mentor other newer physicians," Goldstein says. "To address questions about time management, say that you're able to see a large number of patients efficiently and still provide them high-quality care."
RELATED: How to evaluate a physician practice opportunity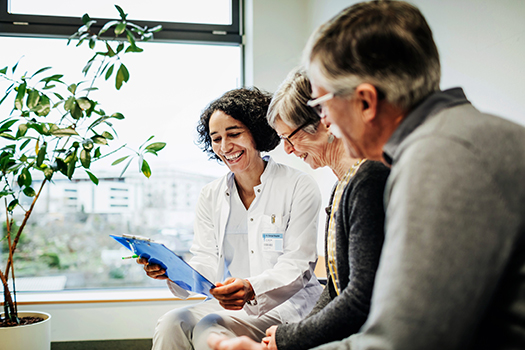 7. Professionalism
Goldstein notes that a professional-looking CV can make a big difference when a hiring manager is comparing two similar candidates.
"If you see someone who doesn't take the time to polish their CV or has an old fax copy with handwritten dates on it, that's saying they're not tech-savvy. There are hidden messages in the things you do," she explains. "They think, 'What's he/she going to be like on our EMR?' You're telling them something about yourself without intending to. A professional-looking CV is very important."
Organization is also a big part of professionalism, and requiring a lot of extra work for a hiring manager can cost you a job.
"It gets very messy to credential someone who has worked all over the place, and it may be a reason a hiring manager shies away," Goldstein cautions. "They want someone who has really good organizational skills and has all their paperwork ready."
8. Enthusiasm
Some doctors are afraid to seem too excited about a job in an interview because they're afraid their eagerness will mean they lose the chance to negotiate salary and other benefits.
"Show that you want to be there," Goldstein says. "You don't have to lose your card for negotiating, but you want to show that you're enthusiastic. Say, 'Hey, I love the rural community, and I felt such good chemistry with your staff. I'd love to move forward in your process.'"
9. Foreign language fluency
Goldstein reminds physicians to include other languages they speak on their CV, especially a language that can help in their practice.
"Sometimes I'll just say to a physician, 'You don't happen to speak Spanish, do you?' They do, and it's not on their CV," she says. "Absolutely put it there."
10. Volunteerism
While including volunteer experience on your CV can help employers see that you are community-minded, overemphasizing this can hurt your job chances.
"If you have five pages of your volunteer work, the hiring manager is thinking, 'This person is going to want to take two months off to volunteer,'" Goldstein explains. "Include community involvement as one of your interests, and then list the places you've volunteered. You never know what you'll put on your CV that the person interviewing you has a passion for."
Get help from the professionals
Knowing what hospitals are looking for can help you stand out from other candidates, but it can give you an additional boost to have an expert like Goldstein in your corner during the process.
"It's nice to have someone advocate for you. We can help you tell the story that makes you stand out from other candidates. We connect the dots between the CV and the job," Goldstein explains. "The follow-up we do can get hospital recruiters to pay more attention to your candidacy."
CompHealth has been helping physicians find the perfect job for more than 40 years. For one-on-one help in your job search, give us a call at 800.453.3030 or view physician job opportunities.
More on what hospitals are looking for: