The COVID-19 pandemic has severely impacted healthcare facilities and providers. In 2020 alone, hospitals lost an estimated $323 billion in revenue, and up to one million healthcare jobs were affected. While these conditions have created an increasingly competitive locum tenens job market, there are still locums jobs out there. Here are five ways to make yourself a top candidate so you can lock in your next locums assignment.
1. Build a strong relationship with a recruiter
Most experienced locums physicians, PAs, and NPs recommend using a staffing agency to successfully land locums assignments. Not only does an agency assist you with paperwork and travel planning, they also take on the job search for you — and often, they know about opportunities that aren't even listed online.
You'll get the best results when you choose one or two agencies you trust and then work to build a strong relationship with your recruiter. Have honest discussions with your recruiter about your preferences — work setting, location, availability — and allow them to get to know you. Then your recruiter will be better positioned to find you jobs that will be a great fit for you.
Jesika Hilton, a hospitalist recruiter, describes how that kind of trust allowed her to help one of her physicians find a rewarding assignment in a rural area that wasn't her first pick. "She took the assignment and ended up having experiences that reinvigorated her as both a locums and a physician."
2. Get a head start on your paperwork
While a locums agency will help facilitate things like licensing and credentialing, there is still an element of paperwork you'll be responsible for. Keep your documents up-to-date and submit any requested paperwork in a timely manner. This will help keep the process moving and increase your chances of landing an assignment.
Brian Sorensen, director of CompHealth's locum tenens OB/GYN team, recommends gathering and organizing all your documents — current CV, diplomas, and certifications — as quickly as possible so you're not scrambling for them at the last minute. "There is going to be paperwork involved," he says, "but there's also going to be someone there who's your advocate and can walk you through it."
Sorensen also recommends partnering with your recruiter to obtain any state licenses you think you'll need, depending on where you want to work. For certain states, it can take months to complete the licensing process, so having a license ready to go can eliminate delays that might cost you a great assignment in a place you want to go. Depending on your home state, you may be eligible for expedited licensure in up to 28 states under the Interstate Medical Licensure Compact, which can make you even more marketable.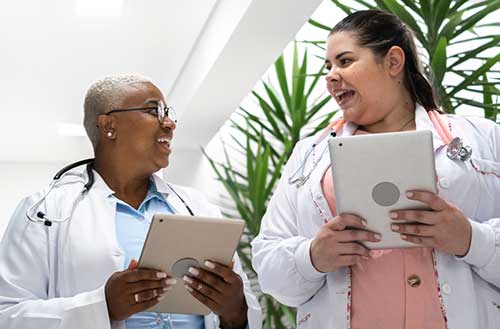 3. Be clear about your expectations
It's common for healthcare facilities to need locums help on short notice, which means the hiring process can move quickly. If you take too much time deliberating about an assignment, it may not be available once you're ready to accept it.
Sorensen says it's important to be clear with your recruiter about your availability and preferences so they can know if you're a good fit for a job when one opens up. Those who are able to commit to a job on short notice will often get preference over the competition, and being willing to negotiate on rates can make the difference as well. Set clear expectations with your recruiter about what you will and won't accept and how flexible you are willing to be. This will allow your recruiter to know when to offer you an assignment and when to pass.
4. Be flexible on location
Locums who are open to working in less popular locations are more likely to be successful in securing assignments, simply because there's less competition for those jobs.
"There are some providers who are holding out for something in New York or San Diego, and those jobs are a lot more competitive," says Sorensen. "My advice is don't overlook an assignment just because it's not what you were thinking of. Some providers find their forever home by working locums. For example, some doctors are like, 'Man, I had no idea how much I would love Montana.'"
5. If you have a connection, share it
If you have a compelling personal reason to work in a specific location or take an assignment, it doesn't hurt to share it with your recruiter.
"Sometimes it helps for providers to share their story if they have a connection to the area or relationships there," says Sorensen. "Those interconnections are really good."
If you grew up in the area, did your residency at the facility a decade earlier, or completed a program with the hospital's head neurologist — make sure you let your recruiter know. It may just help you get the job.
In today's competitive locum tenens job market, good preparation, a strong relationship with your recruiter, and a little flexibility will give you the edge you need to find the right locums assignment for you.
CompHealth can help you find your next locum tenens assignment. Give us a call at 800.453.3030 or view today's locum tenens job opportunities.