According to data from Medscape's annual APRN Compensation Survey and Report, certified registered nurse anesthetists (CRNAs) continue to claim the spot for the highest-paid advanced practice registered nurses (APRNs). The report shows a positive trend of CRNA salary growth; however, the survey also found that the pandemic had a negative effect on employment for many practitioners.
Key findings on CRNA compensation
For the 2020 report, Medscape surveyed more than 3,000 APRNs, including nearly 400 CRNAs. Each year, the report draws on income data from the prior year. So, while the 2020 report focused on income from 2019, the survey — conducted in the summer of 2020 — also acknowledged and sought to explore the impact of the COVID-19 pandemic on providers' livelihoods, job security, and job satisfaction.
Following are key findings from the report, as it relates to CRNA salary and professional outlook.
CRNA gross income
Compensation increased across the board for all categories of APRN in 2019, and CRNAs topped the charts. CRNA salary increased in 2019 (average reported annual income of $202,000) compared with 2018 (average reported annual income of $188,000). Higher education pays off for APRNs compared with the average earnings of full-time registered nurses.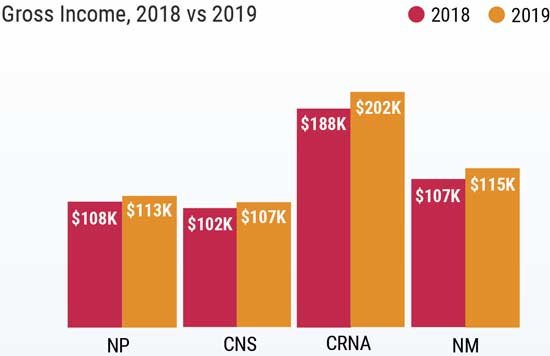 Annual income salaried vs. hourly
The report suggests a financial advantage to hourly pay versus salaried positions. For hourly-paid CRNAs, annual income was $203,000 compared with $192,000 for salaried CRNAs.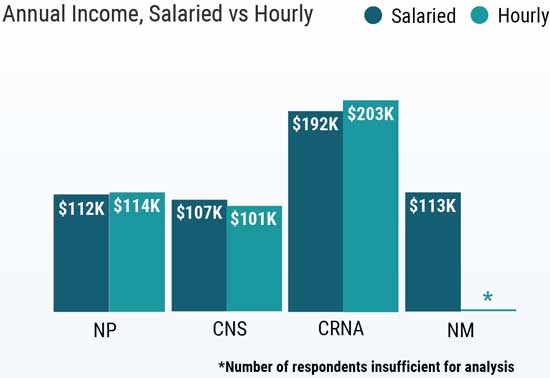 Gender disparity
According to the report, men represented the greatest proportion of CRNAs (45%) compared with other APRN disciplines surveyed. Among CRNAs, the survey demonstrated a significant gender disparity in compensation, with male CRNAs reportedly earning 15% more than their female counterparts. The figure is up from 2018, suggesting the pay gap may actually be widening. The survey explored potential sources for the discrepancy in pay and did note male APRNs are more likely to work in higher-wage settings, more likely to pursue supplemental income, and more likely to own their own practice.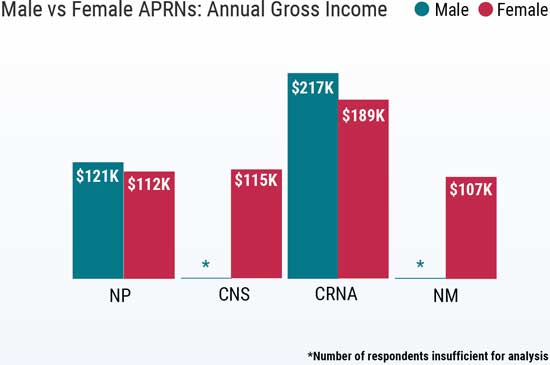 Earnings by region
The report also analyzed compensation by geography and found a distinct earning pattern by region. APRNs in the country's Western/Pacific region (Washington, Oregon, California, Alaska, and Hawaii) reported the highest earnings (annual average of $138,000), while APRNs in the East-South-Central region (Tennessee, Kentucky, Mississippi, and Alabama) reported the lowest earnings (annual average of $110,000). Importantly, the report did not adjust for cost of living. When evaluating comparative pay, earnings adjusted by cost of living — housing and transportation costs, in particular —may be much higher in southern and central states.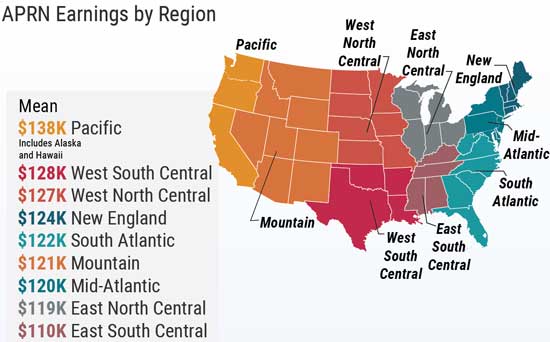 Compensation satisfaction
Across the board, the percentage of APRNs who say they feel fairly compensated increased in 2019 (63%) from 2018 (55%). Among CRNAs, the highest earners in the group, 76% reported feeling fairly compensated.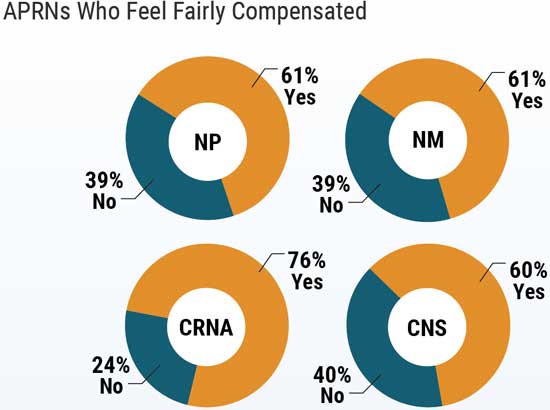 COVID-19 impact on employment
Of those surveyed who said they were not currently working as APRNs as of the time of the survey, roughly 1 in 5 cited the pandemic for the reason — whether due to furloughs, layoffs, or early retirement. However, reports suggest many APRNs who were furloughed during the pandemic have since returned to their pre-pandemic positions.
Growth opportunities for CRNAs
Of the many useful insights to derive from the Medscape report, one important takeaway for CRNAs speaks to earning potential in the field. Further, the uncertainty of 2020 underscores the need for healthcare professionals — indeed, all professionals — to sharpen their skills and seek out opportunities for deeper professional development.
CompHealth can help you advance in your CRNA career. Give us a call at CompHealth can help you find the perfect healthcare job. Give us a call at 800.453.3030 or view today's healthcare job openings. or view today's CRNA job openings.
RELATED: Finding the perfect CRNA job
Chart images from Medscape.com