Last updated July 24, 2023
In August 2020, the National Council of State Boards of Nursing (NCSBN) adopted a new APRN multistate licensure compact. Similar to the nurse Enhanced Nurse Licensure Compact, this compact will give NPs and CRNAs the flexibility to practice medicine in multiple states with one license. It will be especially beneficial to locum tenens providers and those working in telehealth. Here are four things you need to know about the APRN compact.
1. Time and money savings
"The eNLC and the APRN Compact are both based on the underlying belief that you should hold a state-based licensure but have the ability to practice across state lines," says Nicole Livanos, JD, MPP, senior associate of state advocacy & legislative affairs for the NCSBN. "The compact will lessen the regulatory and financial burden for both obtaining those licenses and maintaining them."
Once the compact is enacted, it will benefit many advanced practice registered nurses, especially:
Military families who relocate often and currently have to get multiple licenses when they move
Locum tenens professionals who take temporary assignments across the United States
Online nursing educators, who can get licenses in states where their students are taking classes
Rather than paying for and filling out paperwork to get and maintain licenses in multiple states, APRNs would save both money and time with the APRN compact.
2. Facilitating an emergency response
The COVID-19 pandemic highlighted the need for a mobile workforce, which interstate licensure compacts support.
"Had the APRN Compact been enacted prior to the COVID-19 pandemic, we would have had an immediate, available workforce to assist in compact states with the COVID response," Livanos says. "A mobile workforce would help facilities respond to patients with severe illness and help increase the primary care workforce, critical for testing and less acute illness as well."
In comparing data from the eNLC and other compacts, Livanos points out that nurses in eNLC compact states were mobilized immediately to help in COVID-19 hot spots. APRNs were not in a position to help as easily.
"APRNs had to navigate complex and ultimately patchwork regulatory structures guided by statute, regulation, or this plethora of executive orders from governors' offices that adjust the healthcare workforce," she says. "Every couple of weeks, a new regulatory structure would be altered in some way, which creates confusion that's not great when you're dealing with an emergency."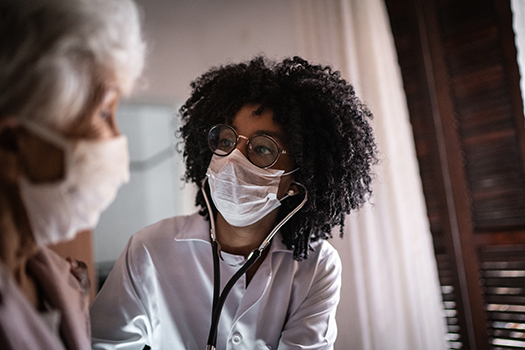 3. Telehealth and care in rural areas
While many APRNs turned to telehealth to provide care while the COVID-19 pandemic limited in-person contact, the APRN Compact could expand this coverage to millions of patients.
Currently, an APRN is limited in telemedicine to patients in states where he or she has a license. Multistate licensure means, if the compact is enacted, a CRNA or NP could provide care through a video or phone call across states lines to a patient living in another compact member state.
Livanos says data also shows that APRNs in states that removed barriers are more likely to practice in rural and underserved communities.
"Access to care has increased just by removing state barriers. In a multistate license workforce, a provider in a bordering state can practice in a rural state like Wyoming — not just by going across the border, but through telehealth," she says. "This is so important for maintaining communication and continuity of care."
4. How to get involved
At least seven states need to adopt the APRN compact before it will be enacted. North Dakota was the first state to pass legislation to adopt the new compact in April 2021, and Delaware joined in August 2021. Utah followed suit in March 2022. Legislation to join the compact is currently pending in Arizona. NPs and CRNAs who are interested in advocating for the new compact can find a customizable letter to send to lawmakers on the NCSBN advocacy site, APRNCompact.com.  
However, not all organizations support the compact in its current form. The American Association of Nurse Practitioners (AANP) released a statement opposing the compact because they say:
It includes practice hours as a prerequisite for an APRN license, which the AANP feels is unnecessary and costly
It does not currently include an APRN advisory committee, which helps to address practice issues and ensure available resources
Regardless of your position on the new compact, Livanos encourages NPs and CRNAs to get involved in their home state. "Developing a relationship with your elected representative will allow those representatives to learn what APRNs are and what services they provide," she says. "Many lawmakers are looking to understand how they can navigate the healthcare system, and APRNs can become resources for that lawmaker if they have questions or a bill is before them."
"COVID-19 provided an opportunity for APRNs to highlight some roles they had in responding to the pandemic," Livanos says. "We're really looking forward to the future of healthcare and the possibilities of telehealth and a more mobile workforce."
Looking for your next NP or CRNA job? We can help. Give us a call at 800.453.3030 or view today's job opportunities.