Locum tenens — or temporary healthcare assignments — are integral to the operation of many hospitals and other healthcare facilities that are short-staffed or in underserved locations. Nurse practitioners (NPs) and physician assistants (PAs) are needed at these facilities and often can earn more working locum tenens than in a full-time, permanent job, especially for high-demand specialties. Other factors that affect locum tenens pay for NPs and PAs include overtime, weekend, on call, or call back.
Here are the answers to commonly asked questions regarding locum tenens pay for NPs and PAs.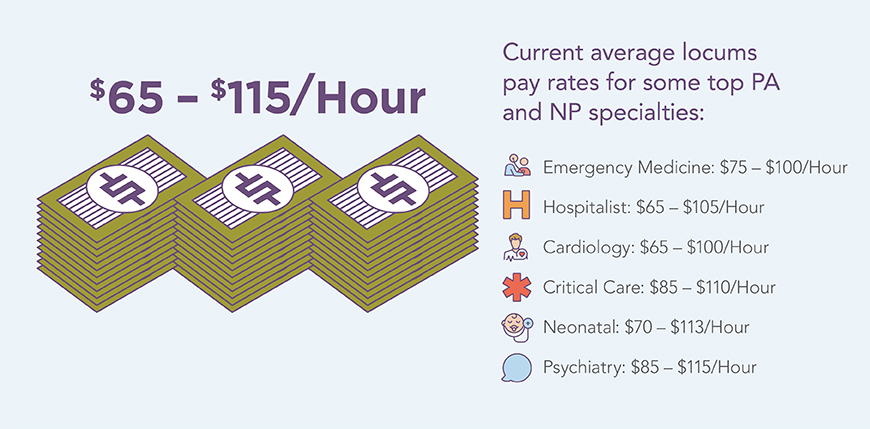 How do NPs and PAs use locum tenens to make money?
NPs and PAs often accept locum assignments with a specific goal in mind: paying off student debt, saving on living expenses, or creating a nest egg.
Here's what two locum tenens practitioners say about their pay:
Jason Raehl is a PA with a permanent position who enjoys traveling on the side. He appreciates the hourly rate and overtime pay associated with locum assignments. "When you work, you get paid for that work. If you work more than 40 hours, then you get paid time and a half for that work. So, if you have a lighter week, that's great, and you have more time to explore and do other things. If you have a heavier week, then you are rewarded for that extra work."
Diana Armstrong is an NP with 32 years of experience. As she nears retirement, working locums through CompHealth gives her peace of mind since she is well compensated and has benefits, including a 401(k). "You get paid well and you have no overhead," she says. "And the benefits are really good. I'm on an eight-year plan to retire, so it's nice to have the retirement option."
Sophia Khawly is an NP who prefers to work rural locum tenens assignments because the pay is great and offers unique benefits such as student loan forgiveness. "Because there is less of a surplus of providers to choose from, facilities will offer a higher pay package than in urban locations," she says. "And many of these sites even offer student loan forgiveness for those locum providers who transition to becoming permanent employees."
What factors affect how much locums NPs and PAs are paid?
Pay rates for locum tenens NPs and PAs are based on several factors and can vary, depending on specialty.
Skill set: Certain skill sets may equate to more money. For example, if an NP or PA has knowledge or experience with more advanced or in-demand procedures, they may be paid more for that skill.
Location: Some hospitals may have demands that are difficult to meet due to their location and will in turn pay more for locums PAs or NPs. For example, critical access hospitals may have limited staff or the hospital may be the only one in a geographic area. Alaska is a good example: in some parts of the state, there is only one hospital within a 200-mile radius. Locum tenens pay for NPs and PAs in this scenario could be much higher with constant on-call pay benefits.
Patient volume: Managing a higher patient volume is another way an NP or PA can earn a higher wage, and for good reason. The more a hospital makes, the more they are willing to compensate to keep things running smoothly.
What is the average locum tenens pay rate for NPs and PAs?
The pay rate for locums NPs and PAs can vary, but is often higher than the pay you would make in a similar, permanent, full-time position — it ranges from $65 to $115 per hour on average.
Some subspecialties pay more. For example, a locums NP or PA working in cardiac surgery can make up to $1,000 during an 8-hour shift.
Here are six in-demand specialties and associated hourly rates:
Emergency medicine: $75 - $100/hour
Hospitalist: $65 - $105/hour
Cardiology: $65 - $100/hour
Critical care: $85 - $110/hour
Neonatal: $70 - $113/hour
Psychiatry: $85 - $115/hour
Where do locums NPs and PAs tend to earn higher salaries?
Locums pay for NPs and PAs varies and is based not on location or state but on demand and the other factors identified above. For example, locums NPs and PAs in Alaska often earn more due to high demand.
Why should NPs and PAs consider working with a locums agency?
The main reason NPs and PAs should consider working with a locum tenens staffing agency is the agency advocates on your behalf. A team of people are working behind the scenes every day, ensuring that all the details of an assignment are in place and you have help when you need it.
Recruiters can make a world of difference. They become familiar with the needs and goals of each NP and PA they work with and are always on the lookout for the most fitting assignments in the right locations. It's like having your own personal locum tenens assistant.
What does the locum tenens agency pay for?
The agency is responsible for negotiating on the behalf of the NP or PA, as well as supplying health insurance and other benefits. When you work as a locum tenens PA or NP through CompHealth, benefits coverage begins on day one and can be extended 31 days between assignments. NPs and PAs are eligible for 401(k)s with a match; medical, dental, and vision insurance; and optional extras, such as pet insurance.
Agencies are typically responsible for the following:
Housing and travel: The locum tenens agency handles and pays for travel and housing, including rental cars.
Medical malpractice insurance: Each NP and PA is covered by the agency's medical malpractice policy. The type of insurance may differ by agency.
Credentialing and licensing: Agencies assist PAs and NPs with credentialing, licensing, and privileging. Their relationships with licensing boards throughout the country help expedite the process. Agencies keep past information on file, so when you get to your next assignment, the information is readily accessible.
What does the locum tenens agency NOT pay for?
NPs and PAs hired through CompHealth are W-2 employees of the agency, not independent contractors. Although agencies typically manage the majority of details for an assignment, the NP or PA is responsible for a couple things:
Spouses, children, and pets: Often, the spouse and/or family of an NP or PA will come along on the assignment. CompHealth can help book travel or other necessary arrangements for the family but does not cover associated costs.
Recreational use of a rental car: The PA or NP is responsible for the cost of a rental car that is used for exploring or other activities not directly related to the assignment.
When and how are locum tenens NPs and PAs paid?
Locum tenens NPs and PAs are paid by the agency. NPs and PAs working with CompHealth enter their time via the My CompHealth digital portal and paychecks are deposited into their bank account on a weekly basis.
How does the staffing agency make money?
Healthcare facilities contact healthcare staffing agencies like CompHealth when they require temporary staff. Locum tenens agencies then reach out to their network of NPs and PAs to find a match between the NP or PA and facility requiring assistance.
The locums agency charges the facility for the work the NP or PA provides, taking into consideration the length of the assignment and expenses that will be incurred. The agency doesn't make money until the NP or PA makes money.
Finally, the facility compensates the agency for their assistance in locating the NP or PA for the job and for covering items such as licensing, credentialing, housing, and travel.
Setting aside income and profit, perhaps the most rewarding aspect of locum tenens is the freedom and flexibility that comes with a stable income, great benefits, and valuable perks.
Interested in locum tenens opportunities in your specialty? Explore open positions or give us a call at 800.453.3030.
Last updated August 8, 2022.