The papers are signed, the dates are set, and you're ready to hit the road for your first locum tenens assignment. Congratulations! While you're surely confident in your abilities as a medical professional, you may be wondering how to best prepare for your assignment. Here are several tips — provided by two seasoned locum tenens professionals — to help you have a great first locum tenens assignment.
Prepare your household for your absence
For orthopedic surgeon Dr. Sonya Sloan, preparing for an assignment starts at home. She makes sure that meals are planned for her family, her kids' transportation needs are taken care of, and her housekeeper is scheduled.
Depending on your situation, you may want to consider holding your mail, arranging for childcare, or scheduling pet boarding. Whatever needs to be done, knowing that your household has what it needs to run smoothly while you're away will allow you to relax and focus on your assignment.
MORE ON THIS TOPIC: Dr. Sonya Sloan on balancing home and physician life
Learn about the healthcare facility
Anesthesiologist Dr. Noel Lumpkin also begins prepping for her assignment early. She looks up where she'll be working online and studies the facility's photos, maps, and any other information available.
"Look up the department that hired you and note the names and photos that accompany it," she says. "You don't have to commit these to memory, but it will help on that first day when you are trying to connect with the person or persons that are anticipating your arrival."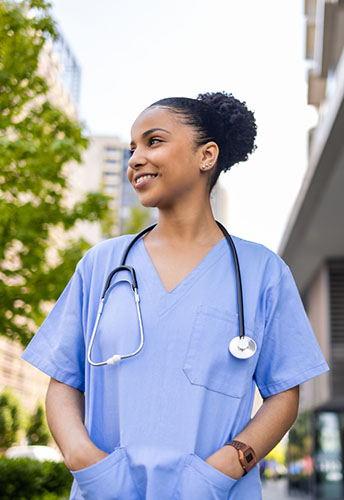 Compile your paperwork
Dr. Sloan recommends having hard copies of all the information for your assignment, including your contract and points of contact. That way you still have everything you need even if you can't access Wi-Fi for some reason.
In addition, Dr. Lumpkin likes to keep digital copies on a flash drive in case she needs them. "Especially your state license and DEA," she recommends. "More than once, I've needed proof when the hospital was unable to locate my license."
Keep in mind that for locums providers working with CompHealth, much of this information is also available to you in the MyCompHealth portal.
Download useful travel apps
Dr. Sloan recommends downloading apps to your phone that will make traveling easier. "I normally load up all my apps, such as the app for the airline I'm flying, the car rental, and the hotel, so that I have all that information already loaded and ready to go," she shares. This also makes it easier to check in for flights and hotels while on the go.
It can also be useful to sign up for the loyalty programs of any airlines or hotels you'll be using, says Dr. Lumpkin, even if you're not anticipating traveling often. The points and miles will accumulate over time.
Arrive in town a day early
Both physicians recommend getting to your assignment a day or two early, if possible. You can then map out and drive the route to the hospital or facility where you'll be working from your hotel, and even identify alternate routes in case there's traffic.
Once there, Dr. Sloan recommends walking around the facility to get a feel for what it's like, and Dr. Lumpkin suggests getting the parking situation squared away. "Many hospitals will use your ID badge for parking; some require you to get a separate tag. Almost all will allow you to use visitor parking for the first day. All of this will save you time and anxiety on that first morning," she says.
Keep in touch with your recruiter
Prior to your first day, you should contact your locums recruiter to make sure your paperwork is finalized. You'll also want to reach out to your hospital contact to let them know you've arrived and ask if you need to bring anything on your first day.
RELATED: 5 mistakes first-time locums make and how to avoid them
Onboard efficiently and connect with staff
Each facility has its own onboarding routine. You'll typically go through the process of getting a badge, doing paperwork, learning the EHR system, and having some sort of orientation. Keep in mind how much information you receive will vary by facility — some will provide a robust orientation while others may have you hit the ground running.
Either way, plan how you can retain as much information as possible. Both physicians recommend either writing down names or taking photos of colleagues you'll need to remember. Dr. Lumpkin also recommends taking photos of different forms, maps, or other materials she wants to keep track of.
Another tip is to take a small bag or pouch to keep all relevant badges, tags, keys, or pagers you may receive. Dr. Lumpkin uses a zippered pouch that's commonly found in the school supply section of many department stores.
10 more tips for a first locum tenens assignment
In addition to the tips above, Dr. Lumpkin provides more advice for a successful locum tenens assignment in her book, Road Warrior Physician. Here's a distillation of some of her collected wisdom: