Physicians born outside the United States who come here for residency training on a J-1 visa must get a J-1 waiver to stay and work in the U.S. If you would like to stay in the U.S. after residency training, here's what to expect from the hiring process along with tips on how to increase your chances of getting hired as a J-1 visa physician.
How do J-1 visas and J-1 waivers work?
A J-1 visa is an authorization allowing foreign medical graduates to complete their medical training in the United States. Under a physician J-1 visa, you can stay in the United States for up to seven years while you finish medical training, then you are expected to return home for at least two years before applying for permanent U.S. residency or nonimmigrant status. A J-1 waiver excuses that requirement to return home for two years, so you can apply for an immigration status that will allow you to stay and work in the United States immediately after completing medical training.
What is an H-1B visa?
An H-1B visa is a work authorization that grants applicants an initial three-year stay in the United States and a potential three-year extension (for six years total). The physician must then leave the U.S. for at least a year before applying for another H-1B visa or have successfully applied for and received a Green Card.

Only 65,000 H-1B visas are available each fiscal year (beginning Oct. 1), but physicians can qualify for cap-exempt employment if they work for universities or nonprofit government research organizations. A J-1 visa physician who wants to continue working in the United States often looks for a job in an area with physician shortages, which can make it easier to get a J-1 visa waiver and apply for a H-1B visa.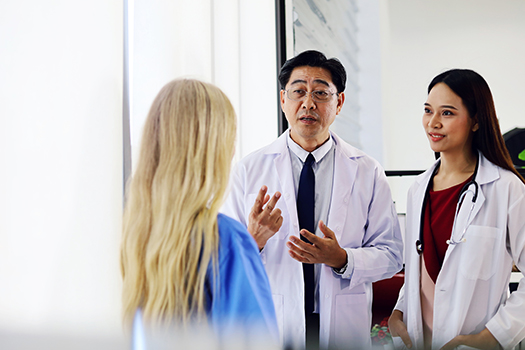 Steps to getting a J-1 waiver
1. Get a job offer from an employer who will sponsor you
To be eligible for a J-1 waiver as a physician, you need a job offer from a U.S. employer who will sponsor you in applying for the waiver and with the immigration process. It's a big commitment for both the physician and the employer, so it's important that both parties are committed to the process.
CompHealth senior physician recruiter Josh Rees recommends being careful when evaluating practice opportunities to make sure you have a good fit. "It's important to make sure the job is right for you before accepting an offer," he says. "J-1 transfers are rarely approved, so you need to know what you're signing up for. If you're nervous about working 80 hours a week, for example, be sure get terms in your contract that protect you from that or find another job that is a better fit."
Joshua Irvine, an attorney who specializes in healthcare immigration law, says it's important to work with someone who has experience in hiring J-1 physicians and knows the process. "The contract has to actually fit the purpose and the offer needs to fall under the right criteria," he says. "If a contract is signed and they start to go down the process without the correct business terms there could be extra delays if they have to go back later and amend and change contracts."
2. Determine which waiver you are eligible for
"The most common waiver is an Interested Government Agency, or IGA, waiver, and the most common program is called the Conrad 30 program. Each state or territory has 30 available waivers they can sponsor annually," Irvine says. "October is the beginning of the federal fiscal year, and that's when most of the Conrad 30 programs open and remain open until those 30 slots are filled. The contract process needs to be finalized by July or August to make the strongest possible application."
Irvine points out that some large states — such as New York, Florida, and Texas — fill up within a week. Other states never fill up because employers there may not want to incur the costs, are not as aware of the programs, or have trouble recruiting physicians in the specialties they need.
3. Apply to the state agency for one of the waiver slots
Once you have a job offer, your future employer will apply for one of the waiver slots with the state agency. Once approved, they will then apply to the federal government to get permission for you to stay in the U.S.
"If they give you the waiver slot, you have to apply to the U.S. Department of State to get them to waive the underlying visa restriction — the two-year residency requirement. They will almost always defer to the state, so if the state has granted the waiver, the Department of State will waive the two-year requirement," Irvine says.
4. Apply for a work authorization (H-1B)
Once you have received the waiver and permission to stay in the U.S., your employer will work with you to get the H-1B work authorization visa. This will require you to stay at that employer for the duration of the visa.
"The H-1B is only granted for three years, and a J-1 requires the physician work at that qualifying employer location for those three years. If a physician tries to leave early, they lose their J-1 waiver and have to go home," Irvine explains.
Though timing varies from state to state, it will probably take six to nine months to complete the entire process, Irvine says. Physicians are not allowed to start work until they have the H-1B work authorization, even if the other stages were authorized and approved.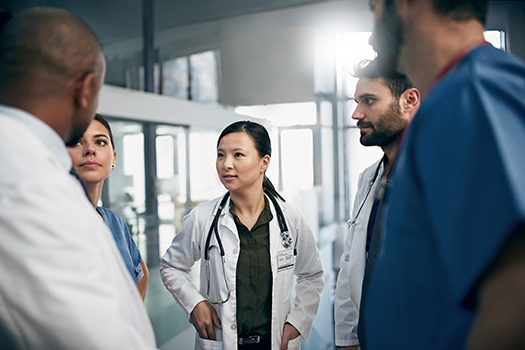 What if you want to extend your stay in the U.S.?
The H-1B authorization lasts three years and can be renewed once, for a total of six years. If you'd like to apply for a green card to extend your stay further, you'll need a company to sponsor you, Irvine explains.
"The sponsorship process can take 18-24 months and can be done simultaneously while the H-1B is pending and while it is in place. Some employers will start this year two of the job and continue it. They'll renew an H-1B and then continue the various steps of the green card process until that's approved," he says.
Josh Rees recommends working with your new employer to start the green card process as soon as possible if your goal is to receive permanent resident status. "Ensure the hospital has a healthcare immigration attorney and has done a J-1 waiver or green card application in the past," he says. "If they don't have one, find a healthcare immigration attorney you can work with so you're not scrambling at the last minute to complete the process."
Based on the physician's country of origin, there is a per capita restriction in the United States for granting green cards each year. If a lot of people from one particular country have applied for green cards, there will be a backlog in that country. This means a physician may not receive a green card in time, Irvine explains. However, they still have H-1B options if this is the case.
"As long as they have received the employer sponsorship, which is called the I-140, approval, they can continue to renew their H-1B indefinitely until their place in the green card line comes to the front," he says. "It's good for the employer, because they don't have to lose the employee, but the company has to renew the H-1B every three years and keep renewing it until the green card is approved. Depending on where you are from, this can take time; the backlog for physicians from India, for example, is about ten years."
How can you increase your chances of getting hired with a J-1 visa?
If your goal is to stay in the United States after training, Rees says it's much easier for a J-1 visa physician to find a job with a sponsoring employer if you're open to many different locations, especially rural areas.
"If a job has everything you're looking for in a job but it's not the location you want, don't just say no, keep an open mind and get more information about the area," Rees says. "If you can, talk to another doctor who lives there. A doctor who was on a J-1 years ago might say, 'Oh my family and I go to this mosque or there's this Indian grocery store.' A lot of time you'll find someone who knows the things you want in a community and it works out just fine."
Waivers through the Conrad 30 program also usually go to primary care physicians first, Rees explains, so subspecialists have to be aware that they may not get a job in the location they most want to work in. "Keeping your options open will improve your chances of finding a job with an employer who is willing to sponsor you for a waiver application."
Although it can be challenging to get a J-1 waiver to work as a physician in the United States, following the tips above will improve your chances of finding a job once you complete your training.
CompHealth has been helping physicians find jobs for more than 40 years. Give us a call at 800.453.3030 for help with your physician job search.