Nearly 30 percent of physicians working in the United States were born in another country, according to
a recent analysis of U.S. Census data
. Foreign-born physicians are increasingly stepping in to fill the gap in underserved areas, and many of them start their journey through the J-1 visa program. The J-1 visa program is an educational exchange program that, among other things, enables foreign students to attend medical school or begin their residency in the United States. But after that training is complete, they are expected to return to their home country for at least two years before they can again apply to work in the United States. Healthcare organizations hoping to tap into that pool of talent can help a foreign-born physician apply for a J-1 visa waiver, which waives the two-year home residency requirement. In return, the physician must agree to work for the sponsoring healthcare organization for three years. Along with the J-1 waiver, the physician will need to receive an H-1B visa, which authorizes them to work in the United States. It sounds complicated — and it is. It can be an expensive, months-long process, and it's easy to make mistakes that will slow down, or even derail, the whole arrangement. But for many healthcare organizations, the cost and effort are worth it. Here's what you need to know before taking the plunge.
Steps to J-1 waiver success
A key thing to understand is that you, as the potential employer, will need to play an active role in the J-1 waiver and H-1B application process. That's according to Joshua Irvine, managing attorney for
Irvine Legal
, a firm that specializes in business and immigration matters for healthcare companies and regularly travels to employers to provide on-site training for these technical areas. The process starts with an employment contract. But Irvine explains that some things that are typically included in a normal contract — like a standard non-compete agreement — may be prohibited in an immigration-focused contract. "So if a contract is signed and they start to go down this process, there could be extra delays because they may need to go back and amend the contracts," he says. "Step one is making sure the contract actually fits the purpose and the offer falls under the right criteria for immigration law compliance." Irvine says, "The next step is to identify the underlying eligibility for the waiver." There are different waiver programs on both the federal and state level, but he says the so-called Conrad 30 Waiver program is by far used the most often. Through this program, each state, including Washington D.C. and various territories, has 30 waivers available each year. Most, but not all, states require the waiver be used for a medically underserved community.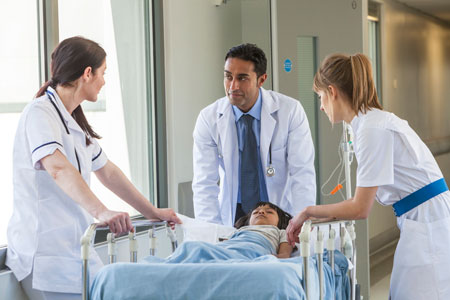 Employers should begin assembling the applications in late summer or early fall to have the highest chances of being recommended for one of the coveted waiver slots. If the state health department recommends that you receive the waiver, the next step is applying to the U.S. Department of State for a waiver of the two-year home residency requirement. "As long as the state health department made a recommendation, the U.S. Department of State will almost always defer to the state and officially waive the two-year requirement," says Irvine. After all that, the last step is to actually obtain work authorization with an H-1B visa, which is almost always granted, assuming steps one and two have been completed. Each state is different, but in most cases the Conrad 30 program opens for applications in October. Irvine says it's important to have your employment contract and the waiver application ready to go so you can get in the front of the line. The entire process can take anywhere from six to nine months. "Timing is important because the physician is not allowed to work until the H-1B is attained," Irvine says. But don't get the approval too fast, either, "because one of the immigration rules is that the physician has to start working within 90 days of the approval of the H-1B."
Looking long term
The H-1B visa is granted for three years and can be renewed once for another three-year period. Some physicians apply for a green card during that time, so they can live and work in the United States on a more permanent basis. "Unless the physician is very accomplished and can satisfy requirements that allow a person to file a green card for themselves — and most new residents and fellows will not meet that criteria— the physician is going to need a company to sponsor them," says Irvine. The green card process can take up to two years, so some employers will help the physician start the process after the first year of employment. "They'll renew an H-1B and then they'll continue the various steps of the green card process until that's approved," says Irvine. While the H-1B visa is generally only allowed for a total of six years, a physician can stay longer if they are still working through the green card process. Many employers are happy to keep renewing the H-1B because it allows them to hang onto a valuable physician. The drawback is that many of the fees associated with the renewal must be paid by the employer, so renewing every three years can become expensive. Irvine estimates that it can cost $5,000 – $7,000 for each renewal, including both legal and government processing fees. However, to be clear, an employer who sponsors a J-1 waiver and the associated H-1B is not obligated to renew the H-1B or to continue onto the green card avenue.  Timing, costs, and long-term plans for the employer and the physician play into these determinations. Bottom line, J-1 visa physicians can be a great solution for
hard-to-fill positions
, but it's important to understand just how complicated and nuanced the J-1 waiver process can be.
For more information: Watch this webinar we did with Joshua Irvine for Commonwealth Purchasing Group
For additional questions regarding physician or allied immigration options for current or future hires, Irvine Legal has generously offered a free consultation. Call 385.333.7966 or email joshua@irvine-legal.com to learn more.
For help in finding the right physician to fill an opening at your facility, give CompHealth a call at 800.453.3030.