Halfway down the
Grand Canyon
sits an ancient and solitary community. An eight-mile trek on foot or helicopter drop-off is your only way in. No roads even come close. Some 640 souls call it home. It is the heart and center of their homeland, 295 square miles of stark,
stunningly beautiful terrain and shimmering waterfalls
. The waterfalls give the people their name. Havasupai means "people of the blue-green waters." The place? The
Havasupai (hah-vah-soo-pie) Indian Reservation
, and the village Supai.
Caring for Native Americans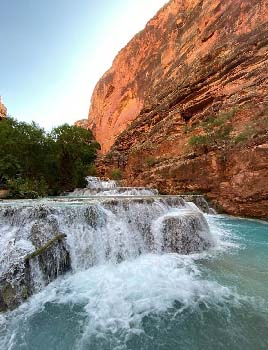 Family medicine physician Dr. Christine Kramer first visited Supai as a tourist back in 2002. When she heard the
Indian Health Service
regularly helicoptered locum tenens physicians in to treat the Native Americans there, this family practitioner jumped at the chance to be considered for what she was sure would be
an adventure
. Semi-retired, but still working part-time at a practice she helped create and doing part-time locums, Dr. Kramer keeps an eye out for adventurous assignments. She has also worked locum tenens for the Indian Health Service in
Shiprock, New Mexico
, and in
Cortez, Colorado
. In Cortez, her patients were Native Americans living outside the reservation. The Havasupai people in the Canyon, in contrast, have resisted assimilation into outside culture for nearly 500 years. That alone made the assignment fascinating. But there's so much more that makes treating these patients, as she has in total six times over the years, transformative — the Canyon itself.
Being a guardian
"It's one of the most beautiful places in the entire world. The privilege of being in the Canyon and taking care of the Havasupai people and just feeling the history of it. I don't know how to describe it. It's just amazing," Dr. Kramer muses. "That's what kept me going back. I loved the adventure of it, I loved being in the Grand Canyon. These people have occupied that village for more than a thousand years. They have attributes that are unique, including this understanding that they're the guardians of this incredibly beautiful place." Being a "guardian" resonates with the family practitioner. She chose a career in medicine due to disillusionment over insensitive care her mother received upon contracting lung cancer. "I felt I could do better," she says. Dr. Kramer started med school later than most at 34, a wife and mother of three boys. "We weren't wealthy people, but my mom gave me six thousand dollars — I think that was my inheritance — and I said, 'I'm putting this towards school'. That's what made me want to do it, because I felt like I could do better." That guardianship is on display to all who see her work during her two-week stints treating the Supai people.
Frontier medicine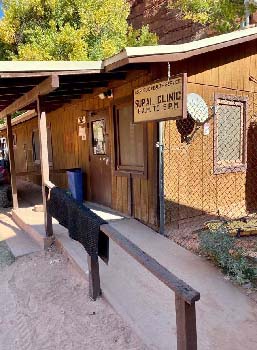 "You're working 24/7, you're the only physician onsite," Dr. Kramer says. She teams up with a public health RN and a substance abuse counselor who are there full-time, providing much needed continuity between physicians. The villagers, she explains, "have all the problems of any of the Native Americans who live on reservations, and then some. Their major health problems are things like diabetes, hypertension, a lot of obesity, acute illnesses, colds, flu, sinus infections, that kind of stuff." Subspecialists working locum tenens for the Indian Health Service fly into the Canyon for short stints, and she makes sure patients in need see the eye doctor, dentist, psychiatrist, or whoever the new arrival is. Tribal leaders take every precaution to ensure the healthcare professionals' safety. "You're working pretty closely with the police, particularly after hours and on weekends because this is a dry community, and intoxication with both drugs and alcohol is common.  A reservation is a very socialistic community where every tribal member gets a paycheck once a month. After the paycheck comes is usually a pretty tough weekend because they manage to get plenty of alcohol and drugs down there in the Canyon. There's a lot of mental illness, a lot of depression, a lot of domestic abuse and violence." It is definitely not an assignment for anyone hoping for an opportunity to vacation. "It's an emotionally taxing job," she says. "There's just a lot of stuff going on. We have a Kubota, which is kind of like a big ATV, an ambulance that you drive around the village, and you may have to go pick someone up at their home and bring them into the clinic. You're triaging any significantly ill person or injured person that has to get out on a helicopter. So several times a week, probably a half dozen in the course of two weeks, you're going to have to call for medical evacuation. That's what a day is like. And then," she laughs, "people might ask you to treat a horse or a dog."
Guests of a sovereign nation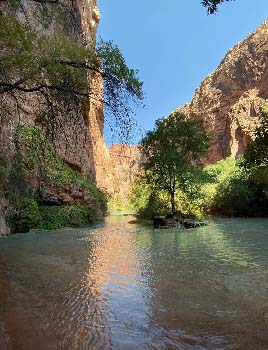 With the tribal elders' approval, Dr. Kramer was able to have immediate family and a few close friends join her to alleviate the hectic pace and the stress that are part of the job, and their presence has proven delightful. They've stayed with her in the two-bedroom apartment made available to healthcare providers like her. But that courtesy shouldn't be taken for granted. A contract worker, though not a doctor, she explains, abused the reservation's hospitality by bringing a large contingent of friends into Supai where they camped on the front lawn of the medical personnel sleeping quarters. Because the spectacular waterfalls and breathtaking landscape attract thousands of visitors each year, the Havasupai leaders enforce a strict limit on the number and activity of tourists, such as: no day-hikers allowed, camping restricted to a three-day/four-night stay at the limited campsites situated two miles from the village, campfires not permitted, and reservations required as far out as two years in advance. So outsiders camping in the village itself was a monumental breach of respect for the Havasupai, a sovereign nation. "They decided," says Dr. Kramer, "that contract workers, including the doctor, would not be allowed to have guests anymore. I don't know if they resolved that [with the IHS] or not, but I hope they have." Dr. Kramer views her chance to serve in Supai as a privilege. "I'm a guest here. This is their land; this is their treasure. I always want to be respectful about the tribe and how they do things," she says. "One of the really important functions of that clinic is to provide healthcare in the tribal setting, not in a white person's setting. The point is they deserve to have medical care near their home, medical care that is responsive to their needs. That's really important." She adds, "It's really good to be part of that."
Are you ready for a locum tenens adventure? Give us a call at 800.453.3030 or view today's locum tenens job opportunities.