The demand for occupational therapists is projected to increase by 14% through 2031 as patient demands skyrocket and working occupational therapists leave the workforce. This may leave some patients without care — but that's where the Occupational Therapy Licensure Compact (OT Compact) comes in.
What is the OT compact?
The Occupational Therapy Licensure Compact allows occupational therapists across the country to work in 28 states with their existing license — if they are already licensed in a state that is a member of the compact and that state is considered their home state. This also applies for occupational therapy assistants.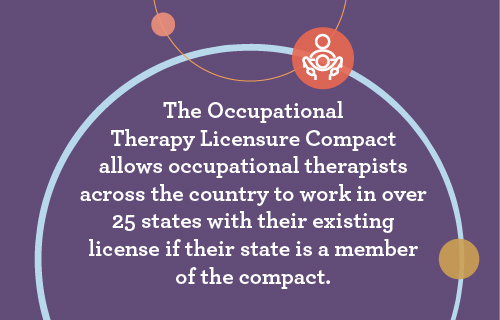 In order to work under the compact, OTs and OTAs need to be licensed in good standing in a member state. For example, if your primary residence is in Illinois — which is not a member state — you may not join the compact, even if you also hold a license in Wisconsin, which is a member state. To be eligible, the state of your primary residence must be a member of the compact and you must hold a license for that same state.
The definition of good standing currently means no disciplinary action within the past two years. If you are licensed and in good standing in one member state, you can then travel and work in any of the other compact member states.
This is a relatively new compact, and applications aren't yet open. However, it's anticipated that applications will open in mid-2024. At that point, instead of needing to acquire a new state license, OTs can simply apply to work with a "compact privilege," which is the equivalent to a formal license.
Which states are involved in the OT compact?
The following states have signed on to the Occupational Therapy Licensure Compact as of August 2023:
Alabama
Arizona
Arkansas
Colorado
Delaware
Georgia
Indiana
Iowa
Kentucky
Louisiana
Maine
Maryland
Mississippi
Missouri
Montana
Nebraska
New Hampshire
North Carolina
Ohio
South Carolina
South Dakota
Tennessee
Utah
Virginia
Washington
West Virginia
Wisconsin
Wyoming
In addition, Massachusetts, Michigan, New York, and Pennsylvania currently have legislation pending toward joining the OT Compact.
How does the OT compact work?
If you're an OT and licensed in one of these member states, the process will be straightforward once the application opens. The OT Compact will have a database that shares licensure information across states, allowing for instant verification of your license. After submitting an application to join, you'll receive the compact privilege, provided you meet all compact requirements.
What are the specific requirements for an OT compact privilege?
Along with being licensed and in good standing, OTs and OTAs will need to meet the following requirements: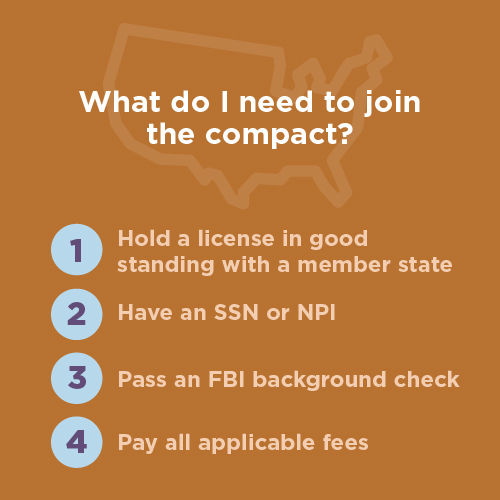 Have a Social Security Number or a National Provider Identifier.
Pass an FBI fingerprint-based criminal background check.
Pay any fees for the compact privilege.
What is the timeline for OT compact implementation?
As we mentioned, the application hasn't yet opened for the OT Compact. Once the OT Compact Commission — a group of state officials from across member states — launches the application, OTs who qualify will be able to apply, receive verification, and work in other states. It is currently estimated that this will occur in mid-2024.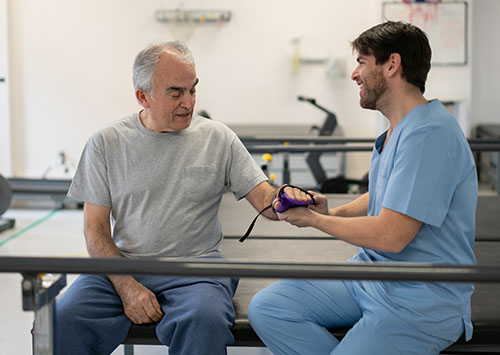 Interested in travel therapy? The OT Compact makes working as a travel OT easier without the need to acquire additional licenses. Learn more about working as a travel OT or view travel OT jobs.
How can I get ready to join the Occupational Therapy Licensure Compact?
The main requirement for being part of the OT Compact is that your home state's license is valid, your home state is a member of the compact, and you're in good standing. So, it's a good time to make sure your license is up-to-date and won't be expiring any time soon.
If your primary residence is in a state that isn't part of the OT Compact, there is something you can do to help. Urge your state legislators to join the compact by contacting them. There's still plenty of time to join, and the OT Compact means more occupational therapists for all member states.
Also, keep an eye on the OT Compact website, where they'll post updates on application timing as well as new member states.
CompHealth can help you find a travel therapy job wherever you want to work, with or without the OT Compact. See our open occupational therapy positions or contact us at 800.453.3030 to learn more.