Updated July 27, 2023, to include new states issuing compact privileges as well as states that have enacted or introduced compact legislation.
One of the biggest barriers to being able to work as a physical therapist in multiple states is the cost and difficulty of obtaining working privileges for each new state. Fortunately for physical therapists, the PT Compact makes it easier than ever!
What is the PT Compact?
The Physical Therapy Compact is an agreement between states to improve access to physical therapy by making it easier for physical therapists to work in multiple states. There are currently 37 member states — with 31 of those states issuing compact privileges — and the number continues to grow.
Not only will patients benefit, there are many advantages for PTs as well.
Reduced time, cost, and paperwork to practice in a new state
Improved access and choice for travel physical therapists
For PTs working as travel therapists, CompHealth makes it even easier — your license coordinator will assist you in the process of obtaining compact privileges and pay for them too!
How the compact works
Instead of needing a license to provide physical therapy services in a new state, eligible PTs and PTAs will be able to purchase a compact privilege.
Once applicable jurisprudence requirements have been met and the fees paid, you can start practicing in the new remote state almost immediately. Jurisprudence requirements and fees vary from state to state. For details, contact the CompHealth licensing team at 800.453.3030 or email jessica.buning@comphealth.com — we'll provide you with the most up-to-date information and assist you in the process of getting your compact privileges.
How to tell if you're eligible
In order to purchase compact privileges:
You must hold a current, valid PT or PTA license in your home state.
Your home state must be a member of the compact and be actively issuing compact privileges.
The state where you are seeking a compact privilege must be a member of the compact and actively issuing compact privileges.
You cannot have any encumbrances or any disciplinary action against your license for a period of two years.
Where the PT Compact is available
As of July 27, 2023, the compact member states actively issuing privileges include:
Arizona
Arkansas
Colorado
Delaware
Georgia
Indiana
Iowa
Kentucky
Louisiana
Maryland
Mississippi
Missouri
Montana
Nebraska
New Hampshire
New Jersey
North Carolina
North Dakota
Ohio
Oklahoma
Oregon
South Carolina
South Dakota
Tennessee
Texas
Utah
Virginia
Washington
Washington D.C.
West Virginia
Wisconsin
If your home state is any one of these states, you can now purchase a compact privilege in any of the other active member states.
PT Compact States as of July 27, 2023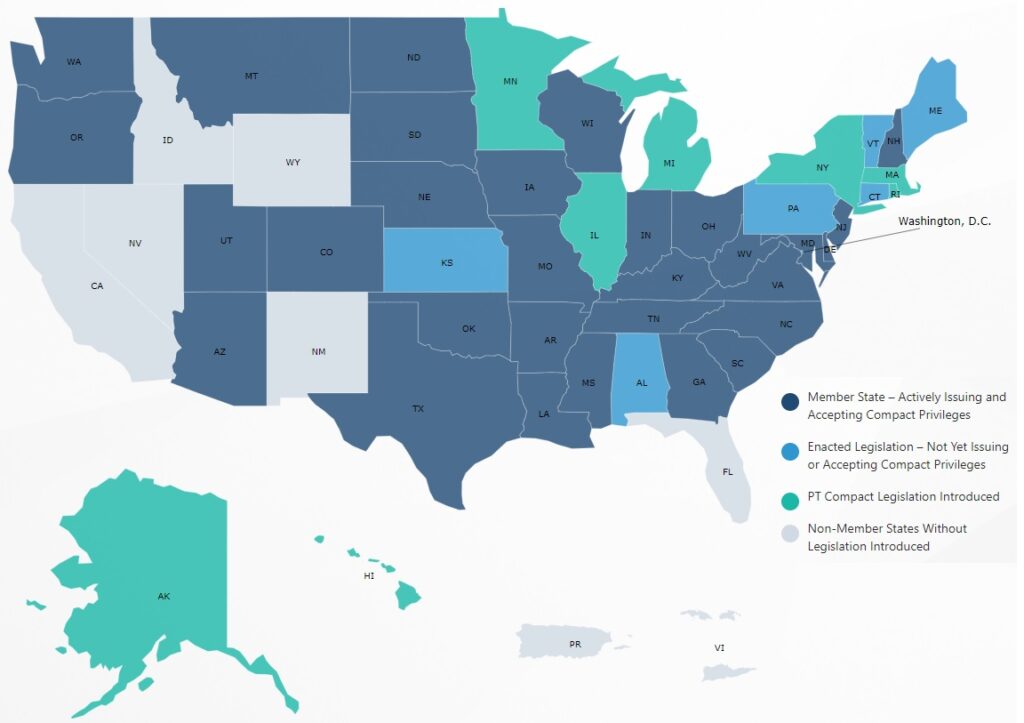 Additional states are coming soon! The following states have already enacted or introduced legislation but have not yet started issuing compact privileges:
Alabama
Alaska
Connecticut
Hawaii
Kansas
Maine
Massachusetts
Michigan
Minnesota
New York
Pennsylvania
Rhode Island
Vermont
For the latest list of states and their status in issuing compact privileges, view the interactive PT compact map.
This is an exciting time to be a PT, especially if you are interested in working across state lines or in other states as a travel PT. The new PT Compact makes it faster, easier, and more affordable than the traditional process of obtaining individual state licenses.
SEE ALSO: Step-by-step guide to using the compact privilege purchasing system
To learn more about the PT Compact, contact the CompHealth licensing team at 800.453.3030 or email jessica.buning@comphealth.com. Additional information can be found at http://ptcompact.org.