Sophia Khawly, ARNP, MSN, discusses how the opportunities, support, and career opportunities for women in healthcare have improved in recent years.
Healthcare is becoming less male dominated and opportunities for women are growing. In 2021, over 16 million women worked in the healthcare and social assistance industry. This accounts for 77% of the workforce in this field. In fact, 31% of hospitals are led by women, 83% of nurses are women, and one-third of all physicians in the U.S. are women. Women are also currently the growing majority of medical students. The dynamic of women in healthcare is shifting.
Career satisfaction high
Women in healthcare have many opportunities to move up in the organization and they report high job satisfaction. About 75% of women in healthcare report being happy in their careers compared to 69% of men. They find the work to be fulfilling and feel like they are making a difference in their community — and experience a limited gender gap in promotions in comparison to other fields. Women in healthcare also tend to be more successful in negotiating their pay.
Higher rate of burnout
Since the pandemic, there has been more focus on preventing and treating burnout in the healthcare setting. This is especially beneficial for women in healthcare, since they tend to experience a higher rate of burnout than men. In fact, 49% of women in healthcare tend to experience burnout, compared to 41% of men.
As a result, many institutions have implemented policies that allow free talk therapy for their employees. Long term, this may help clinicians develop coping mechanisms to mitigate burnout. Healthcare facilities have also expanded mentorship programs to assist new employees in transitioning to the workplace. Additionally, they are often surveying employees to evaluate the current mood of the workplace and finding ways to improve employee morale. For instance, some facilities have created a "culture team" to strategize and lead events at the workplace to keep employees engaged and connected. Lately, due to these changes, women have been feeling more united and less stressed at work.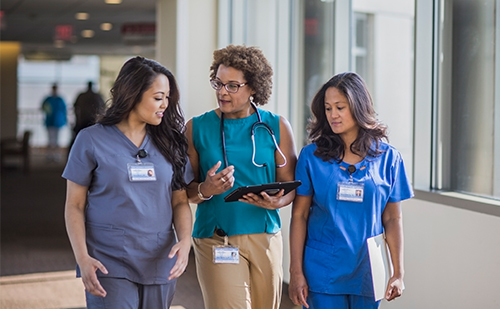 Many schedule options
Working in healthcare offers a variety of flexible schedules, and a majority of women healthcare workers are looking for work/life balance. For example, a registered nurse can choose to work per diem, meaning they just need to pick up one or two shifts per month. This could be a good option for mothers who want to stay at home with their children but still want to bring home some type of income.
Many full-time healthcare workers work 12-hour shifts only three days a week. This is a nice benefit since that leaves them four days off each week to do other things. Some will even aggregate their working days to the beginning of the first week, and to the end of the second week. This allows a total of eight consecutive days off in the span of two weeks. This is a great option for millennial women who love to travel and would need more time off to do so.
For those working in outpatient care such as women physicians or nurse practitioners, the schedule is typically Monday through Friday 9 am – 5 pm. This is ideal for women with families who don't want to work on weekends, holidays, or night shifts. Working in healthcare offers a variation of schedules to meet anyone's needs.
Multiple career opportunities
Many women flock to jobs in the healthcare sector such as nursing, technicians, pharmacists, and physicians due to the abundance of opportunities in these fields. They can choose to work in acute care such as in hospitals, outpatient facilities such as clinics, or hands off from patient care, like working with insurance agencies. Eventually, women in healthcare may even transition to teaching or consulting.
In healthcare, there is also the chance for women providers to work in locum tenens. This is when a physician or advanced care provider provides temporary coverage to a site in need. Benefits of working in locum tenens includes free travel, increased pay, and flexible schedules. Women who are close to retirement or women who are looking for an adventure early in their lives are good candidates for locum tenens work.
Working in the medical field as a woman allows for a plethora of possibilities. There are many sectors to choose to work in, and various scheduling options. Fortunately, since the pandemic, institutions have been working hard to help combat burnout in medicine. This will allow women in healthcare to continue to thrive.