There's a whole world out there beyond the walls of your medical practice. And working locum tenens internationally can offer you a chance to engage with that world up close and personal. Temporary overseas assignments can introduce you to different cultures, new work environments, and serve as "working sabbaticals." You can even go on
medical missions
and volunteer for humanitarian work. While CompHealth doesn't offer international locums jobs, our sister company,
Global Medical Staffing
(GMS), does. Here are four tips from GMS's blog post, "
International Locum Tenens 101—A Beginner's Guide
," on what it's like to go international and how to get in on the action.
1. Different countries have different physician qualifications
Practice standards differ from country to country and practitioners working locum tenens internationally must meet the requirements of the country that they work in. GMS can help you navigate the requirements of each.
Australia, New Zealand, and Canada: Board-certified with recent, extensive experience or training (including residency).
U.S. Territories: In countries such as Guam and the U.S. Virgin Islands, all you need is an active state license.
Other countries: Call GMS to find out.
2. Go where you're needed... really, really needed
Communities in some countries struggle to provide even basic services. According to Global Medical Staffing international placement specialist Sara Cosmano, "Many of our openings are in attractive communities that have simply grown and require additional medical assistance. Many of the communities are coastal cities with populations ranging from twenty thousand to a million people." Basically, you won't be stuck in the middle of nowhere (unless you want to be, that is.)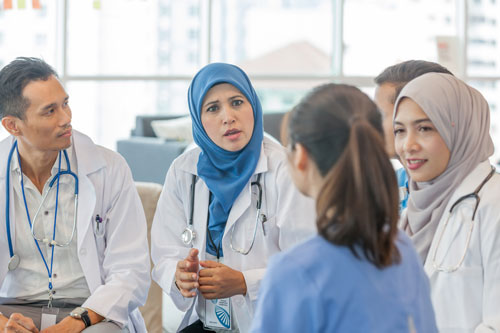 And GMS compensates you well. Airfare, housing, transportation, and malpractice coverage are typically paid for. While pay varies from country to country, and overseas locums assignments generally don't pay as much as positions in the United States, these positions offer other benefits, including the opportunity to see the world, unique cultural experiences, the chance to help in areas of need, and better work/life balance.
3. Put patients first, truly
The healthcare systems in many countries focus on patient care over red tape and hospital politics. Sara Cosmano explains how this works in New Zealand and Australia: "Doctors are respected members of the community and patients are genuinely thankful for medical care. Both countries still focus heavily on quality patient care over the business and financial aspects of medicine — one of the top reasons many of our physicians choose to extend or repeat their locums experience."
4. Use your adventure as a springboard
David Foster Wallace wrote, "Routine, repetition, tedium, monotony…these are the true hero's enemies." It's easy to fall into a rut when you practice medicine in one place and under one system over time. Whether you're longing for in a whole new life — or just need a new lease on your current one, working locum tenens internationally can be a great way to escape your rut. Locum tenens can revitalize your medical practice, allow you to enjoy new experiences, and perhaps even open the door to an entirely new lifestyle. Global Medical has placed thousands of top-caliber doctors in facilities throughout Australia and New Zealand, the United States and its territories, Southeast Asia, the South Pacific, the Caribbean, and Canada. They actively recruit doctors and help them through the entire process, bringing an international adventure within reach of many physicians.
Intrigued by the idea of working locum tenens internationally? Begin your journey by exploring today's international job opportunities.