Credentialing is the process a healthcare organization undertakes to verify that a PA or NP is eligible to practice medicine in their healthcare facilities. When working locum tenens, PAs and NPs need to complete the credentialing process both for the location where they'll be working and for their locum tenens agency. Here's what you need to know about locum tenens credentialing for PAs and NPs when working for CompHealth.
Agency credentialing for locum tenens
Just as a healthcare organization needs to ensure all of its employees are qualified to practice medicine, CompHealth needs to do the same for its advanced practice providers (APPs) who work locums.
APPs who work locum tenens for CompHealth are W-2 employees, so we are responsible to meet our own credentialing standards as well as those of our malpractice and insurance carriers.
This means that locum tenens NPs and PAs go through two credentialing processes — one with CompHealth and the other with the facility where they'll be on assignment. To make things easier, the internal and external credentialing teams collaborate to share information and avoid asking for the same document more than once.
Even though we do our best to avoid duplication of effort, you should tell your references to be prepared to be contacted twice, as CompHealth typically is looking for different information than the facility's credentialing department.
The credentialing process
The credentialing process begins once you've completed an application and are confirmed for an assignment.
You will receive an email outlining the different things CompHealth will need from you. For example, we'll schedule a drug screening and start contacting your references.
While it's possible for a PA or NP to be credentialed within a few days if everything goes perfectly, the entire process typically takes about 25 days. Sometimes it can take longer if references are slow to respond or it takes extra time to get verifications from outside parties.
Required documents
In addition to a completed application and CV, PAs and NPs need to provide information about education, work history, and hospital affiliations to complete credentialing. You'll also need to submit copies of any licenses or certifications you hold.
CompHealth uses this information to conduct primary source verification. This means we're going to the source of the information to validate it, as opposed to accepting a copy or verbal acknowledgement that you have it.
Additionally, any NP or PA who works an assignment with CompHealth is required to submit a criminal background check, TB and drug screenings, and pass an orientation test.
Work history
CompHealth's credentialing team also reviews all applicants' work histories to ensure they're accurate and complete. We'll ask questions if there are gaps in work history or discrepancies between your application and the information on your resume.
CompHealth also queries the Office of the Inspector General and National Practitioner Data Bank to obtain a full scope of disciplinary history for each applicant.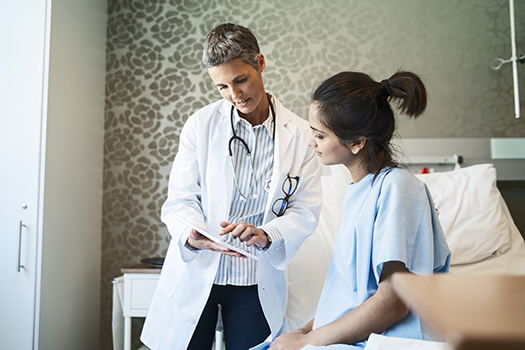 References
References are one of the most important pieces of the credentialing process. They're used to validate an NP or PA has particular skills and also define the scope of practice for malpractice purposes. For example, if you are going to work in family practice or urgent care, we validate your experience through references. We also validate specific skills — if you need to be able to do suturing for an assignment, we verify that skill through references as well.
All practitioners used as references need to have observed the PA's or NP's work within the last two years, and the reference must be qualified at the same level or higher.
Malpractice claims
Malpractice claims don't necessarily disqualify someone from working locums, but they will involve a bit more due diligence on CompHealth's part. If a PA or NP has a malpractice claim, criminal history, or other licensure action in their past, CompHealth's quality management department will do additional review before approving a provider to work. There are only a few black-and-white issues where we cannot work with a provider.
How to make the process easier
The best way to make the credentialing process easier is to complete your initial application completely and accurately. Much of the information used in the credentialing process is pulled from the application, and missing or incorrect data can cause delays. Providing timely responses to any questions you receive from CompHealth will also keep the process moving along.
Locum tenens credentialing for PAs and NPs doesn't have to be complicated, and CompHealth makes the process as easy as possible, so you can get on assignment and focus what you do best — take care of your patients.
Do you have questions about locum tenens credentialing for PAs and NPs? Give us a call at 800.453.3030.