Physician income is rebounding across the board from the effects of the COVID-19 pandemic, and general surgeons are no exception. According Medscape's 2022 General Surgeon Compensation Report, general surgeon pay rose to an average of $402K in 2021, up nearly 8% from the $373K average reported for 2020. The report also reveals how general surgeons feel about their compensation, and offers insights into the most rewarding and challenging aspects of their jobs.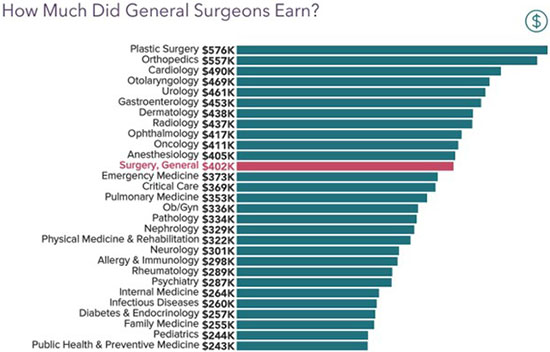 How general surgeon salary compares
At $402K, general surgeon compensation ranks 12th among the 29 specialties surveyed. While general surgeons saw the same rising pay trend as other specialties, the 8% rebound rate ranks in the middle.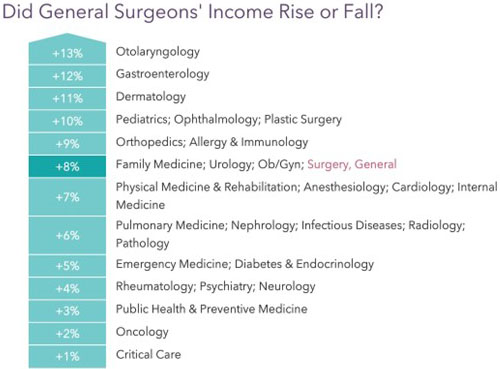 In addition, some general surgeons had not seen their income return to pre-pandemic levels in 2021. One in five general surgeons noted that their earnings shrunk in 2021 due to various factors, such as reduced pay from their company and the expiration of assistance grants set in place during the height of the pandemic in 2020.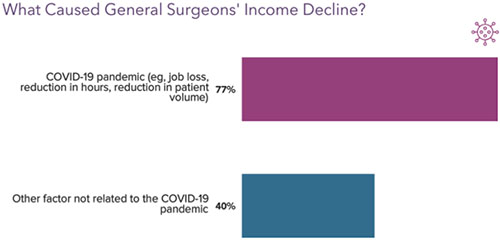 How general surgeons feel about their compensation
Despite salary gains, only 52% of general surgeons feel that they are fairly compensated for their work. Of the specialties polled, this ranks 10th lowest in compensation satisfaction.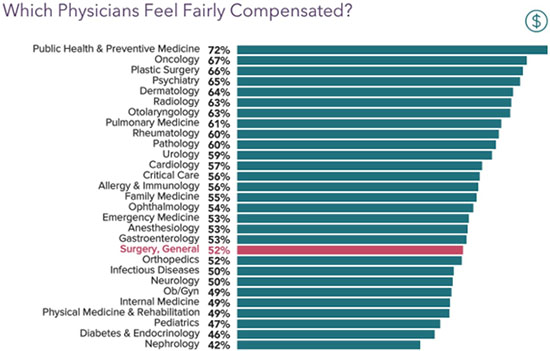 This dissatisfaction may be related to incentive pay. Of the 17 physician specialties who receive incentive bonuses as part of their pay structure, general surgeons' bonuses average $46K, which is the 6th lowest. The highest incentives went to orthopedics ($126K), ophthalmology ($100K), and cardiology ($85K).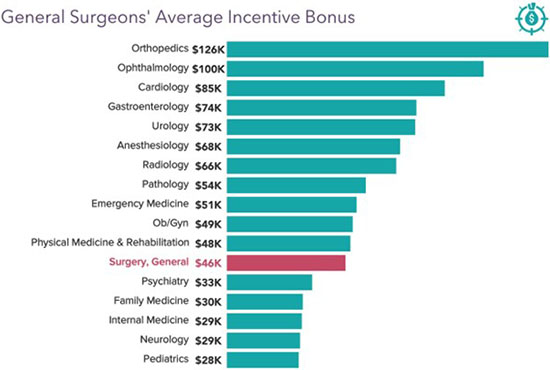 What general surgeons find most rewarding
Of the physicians surveyed, gratitude and relationships with their patients topped the list of most rewarding parts of the job at 29%. Second and third most rewarding factors are being good at what they do/finding diagnoses (26%), and knowing that they are making the world a better place/helping others (21%).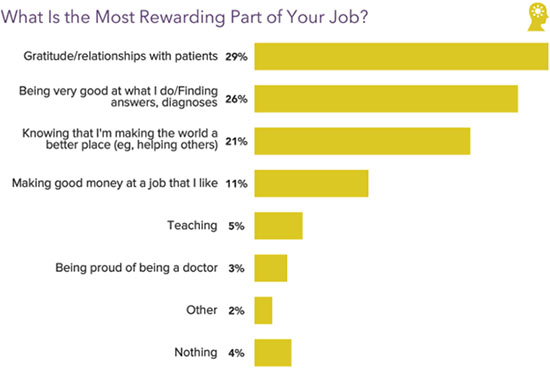 What challenges have the biggest impact on general surgeons
The top challenge listed by general surgeons is having so many rules and regulations (22%.) This is also the greatest challenge listed by a large majority of specialties. The next biggest trial for general surgeons, at 19%, is difficulty getting fair reimbursement from or dealing with Medicare and/or other insurers. Coming in third is working long hours (13%).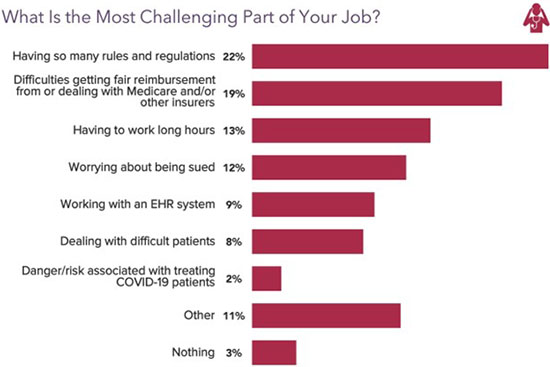 How general surgeons feel about their choice of specialty
Medscape found that despite feeling unfairly compensated for their work, 76% of general surgeons still say they would choose medicine as a profession again. Additionally, only 17% of general surgeons said they would likely choose a different specialty if given the opportunity to do so.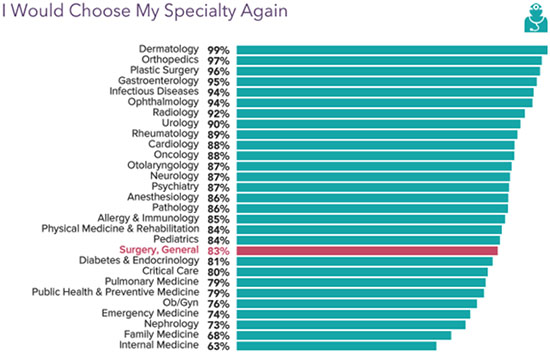 How many general surgeons work extra to supplement their income
About 31% of general surgeons say they have taken on additional work to compensate for lost wages over the past 2 years. This includes moonlighting as well as locum tenens positions.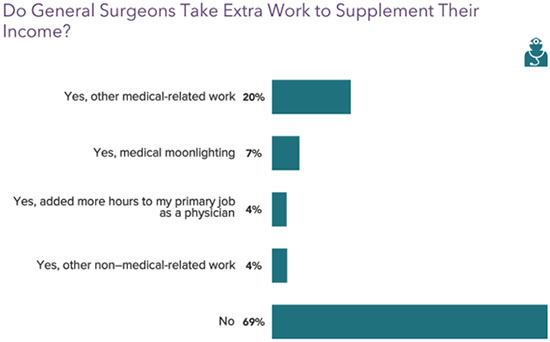 Dr. Blaine Cashmore, a general surgeon based in Utah, says that adding locums work to his regular schedule affords him peace of mind when it comes to his family budget. He states, "I always look at it as, if I take locums work this weekend then I don't have to question, 'is spending extra money worth it?'" He takes on weekend locum tenens assignments close to home, where lengthy travel isn't necessary but getting to assist a facility in need as well as the impact of the added hours on his general surgery salary make the time spent worthwhile.
Most general surgeons satisfied
General surgeon salaries, on trend with other specialties' salaries, are rebounding from 2020. And despite feeling undercompensated in their roles, a majority of general surgeons say they enjoy their work, value practicing medicine, and feel there are many rewarding aspects to the job.
RELATED: How locum tenens works for surgeons
General surgeons are in high demand as locum tenens physicians. Give us a call at 800.453.3030 to learn more or view today's locum tenens general surgery job opportunities.