Many physicians work locum tenens, from family practice to dermatology. Surgeons are in high demand for locums work, and working temporary assignments — whether on a part-time or full-time basis — can be rewarding for a variety of reasons. Learn more about how locum tenens works for surgeons.
Locum tenens is adaptable to surgeon's needs
Orthopedic surgeon Dr. Sonya Sloan has been working locum tenens assignments for 15 years, and her story illustrates how locums enables surgeons to build the lifestyle they want. In the early days of her locums career, Dr. Sloan had two small children whom she took with her on assignments. She accepted longer assignments — three to six months — and brought a nanny to help care for the children.
"Then once they got to school age it was more like, 'Okay, they can't travel,' so I cut down," Dr. Sloan explains. "Let me do a few weeks here or there … and then when I'm home, I'm just mom."
Now her kids are starting their college years, and that will change where and how Dr. Sloan wants to work. "That's part of the beauty of locums — you create as you go … as well as the possibility of slowing down and just being able to travel to where they are and doing what they're doing. So, there are lots of options," she explains.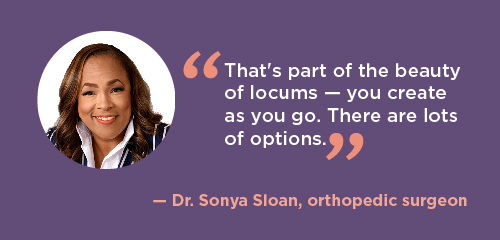 Why surgeons choose locums
Building an ideal work/life balance is just one reason surgeons turn to locums work. Compensation is an important factor, as well as opportunities to see new places, try out new locations and settings, or ease into retirement.
While locums work has helped Dr. Sloan build her ideal work/life situation, "My agenda is to make money," she says. Over the years she's learned how to maximize her assignment rates and hours to make each assignment count.
Locum tenens work helped orthopedic surgeon Dr. David Hubler focus more on medicine and less on administrative tasks. "I was in private practice for 29 years and it got to the point where I would work until 5 or 5:30 seeing patients but it would be 8:30 or 9 by the time I finished up all the paperwork," he says. "Locums simplified a lot of that."
Surgeon Dr. Blaine Cashmore primarily uses locums work to supplement his income from full-time employment. Additionally, he says, "I think it's enjoyable to see how things are done at other places, to meet new people and kind of see whether the grass is greener on the other side — without having to extend yourself to something like actually looking for another job."
"Locums is a great opportunity if you want to test drive a particular location," agrees Dr. Jon Bowersox, a general surgeon. "You get an opportunity to see if it's a good fit, if you like the community."
For Dr. Hubler, locums provides a way to ease into retirement. "It makes it a gentle retirement instead of an all-of-a-sudden, now-what-am-I-going-to-do retirement."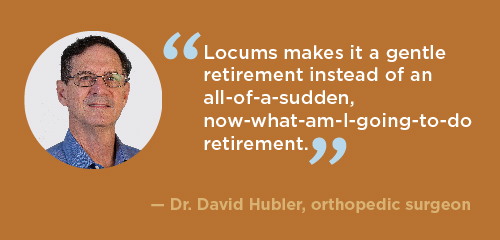 Neurosurgeon Dr. William Meyer loves his work so much that he can't imagine retiring. Instead, "I'll think about not doing 20 – 25 days a month. I'll go back to 10 days," he says. "I work locum tenens instead of full retirement because it keeps me stimulated, it challenges me, and I can enjoy the results of good outcomes from severely injured patients and their care."
RELATED: A day in the life of a locum tenens general surgeon
The logistics of locum tenens for surgeons
Locums assignments come in a variety of flavors. There is no "typical" assignment in terms of length or location. Locums opportunities vary from short weekend assignments to several months. This variety lets surgeons custom fit their locums work to their unique needs.
"The longest stretch I've taken an assignment has been 21 days, and that crept up from 10 days," says Dr. Bowersox. "With the average probably being seven to 10 days, to my current assignment being 72 to 96 hours."
The perception of locums is that it's all about travel — but it's often possible to find locum tenens assignments close to home. In fact, surgeons may be able to negotiate higher pay if travel costs are not involved. Staying close to home minimizes the time spent traveling to and from assignments and lets surgeons stay near their families.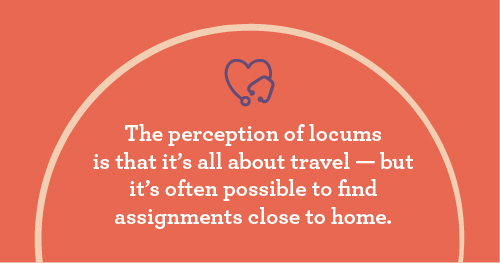 On the other hand, many surgeons enjoy the adventure of traveling to other regions of the country, and some take the opportunity to bring their families along for working vacations.
"I've been working locum tenens for 10 years," says Dr. Hubler, who's worked in 12 different states. "I love taking my wife on assignments. With the longer assignments that I do, it's very easy to take her along."
RELATED: 4 different ways locums can fit into your lifestyle
How rates are determined for locums surgeons
Among the top reasons that physicians turn to locum tenens work are the ability to supplement their core income and the appealing compensation.
Several factors influence how much a locums surgeon is paid, including:
demand for their specialty
location
type of facility
skill set
patient load
type of shift
"I can't speak to other surgeons and their contracts or other specialties," says Dr. Bowersox about his compensation. For example, "a trauma center where you're going to be on the ground in the hospital for 12 hours — it's been a flat rate. If you get called back in when you're on backup, it's an hourly rate."
"The more standard is where the hospital negotiates with CompHealth to have a certain number of hours covered within a base rate," he says. For him, "it's generally four, although I've seen two, so within that, you get a flat rate for 24-hour call coverage and it'll throw in, say, four hours of you being in the hospital. And then after that, you've got a callback rate, and it's defined as anytime you have patient contact."
Typical surgeon compensation when working locums
Average locum tenens pay for surgeons varies among specialties. Here are pay ranges for some of the most common surgeon specialties, according to data from Locumstory: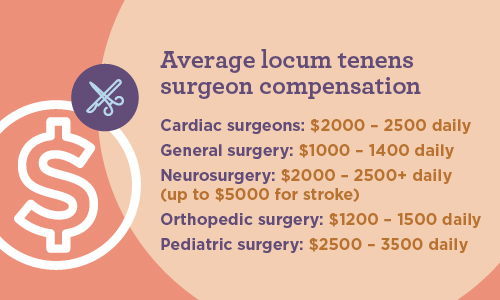 Cardiac surgeons: $2000 – 2500 daily
General surgery: $1000 – 1400 daily
Neurosurgery: $2000 – 2500+ daily (stroke, up to $5000 daily)
Orthopedic surgery: $1200 – 1500 daily
Pediatric surgery: $2500 – 3500 daily
Locum tenens work can help surgeons supplement or increase their income, create their ideal work/life balance, visit new places, and ease into retirement — making locum tenens a great career option for surgeons.
RELATED: Physician career opportunities with CompHealth
Interested in learning more about locum tenens opportunities for surgeons? Give us a call at 800.453.3030 or view today's locum tenens surgery job opportunities.