Finding a good locum tenens provider when you need one can be a time-consuming and sometimes frustrating process. You want a provider who will have great clinical skills, work hard, and fit in well at your facility, with a minimum investment of time and effort on your part. One proven strategy for streamlining the process is to create a locums "bullpen" of trusted locum tenens providers you can call on when needed. This approach gives you more flexibility, efficiency, and guaranteed quality the next time you need additional coverage.
What is a locums bullpen?
A locums "bullpen" is a group of trusted locum tenens providers that a healthcare organization can turn to with confidence when they need to bring in extra help. The facility typically keeps them credentialed with privileges so that they can bring them back with little effort, knowing they'll provide quality care.
Having a bullpen is especially useful when you need coverage on short notice, says Mark Douyard, an experienced physician recruiter who recently retired from Bayhealth Medical Center.
"We had a general surgeon whose mother got very ill, and so he had to travel out of state, and another general surgeon who needed to have surgery, and suddenly we were down to one general surgeon at one of our hospitals," he says. "Having people in the bullpen that we can call on to fill those empty shifts becomes important."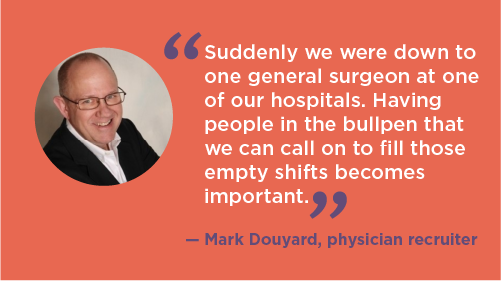 Hire the right locum: Common mistakes recruiters make when hiring locums
What does a typical bullpen look like?
The size and specialty mix of your bullpen depends on your facility's needs.
For specialties that require coverage or typically have a lot of locums openings, it's common to have five to eight physicians with good availability, ready to step in. For other specialties, one or two providers may be sufficient. "You have to look at how many you have on staff and what your needs might be if you were to lose one or two people very quickly," says Douyard.
He typically uses a bullpen model for specialties where "you absolutely 100% have to have unassigned ED coverage: general surgery, GI, urology, a trauma surgeon. The sort of thing where you can't get away with not providing coverage."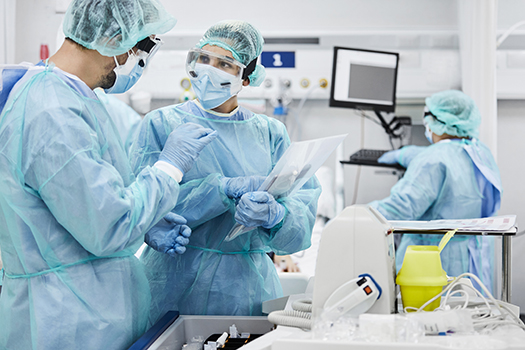 Don't lose money on locums: How to bill for locum tenens services
Bullpens make staffing easier and more efficient
Not only do bullpens make a recruiter's job easier, they also make business sense.
"It's not so much cost savings, but the efficiencies that come in where you've got people that are pre-screened and credentialed, so you don't have to go through the whole process," says Douyard. "The idea is being proactive as opposed to reactive."
Linda Stevenson, physician and medical staff recruiter at Atrius Health, says she saves time when she can hire a provider who's already been successful at her facility. "In some cases, bullpens are reasonable solutions. When you find a few great providers who individually have limited availability but who together can fill the number of shifts needed month to month, over time it can work to everyone's advantage. If each of them fits well with the practice — used together repeatedly in a bullpen arrangement — they can cut down on the administrative tasks of processing a new locums hire."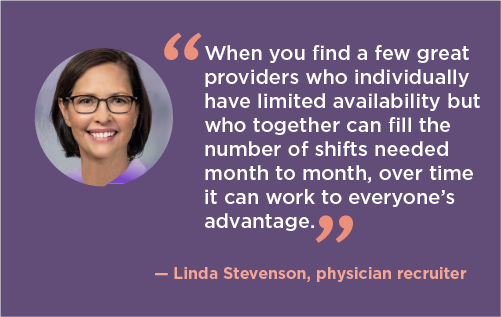 You also avoid having to onboard a new physician every time there's a staffing need, says Steven Jacobs, enterprise director of physician and APP recruitment for Einstein Healthcare Network and president of the Mid-Atlantic Physician Recruiter Alliance. "To bring somebody in who knows your EMR, who knows how to code and bill, who's keeping up with their notes, that's the kind of person you want to have back."
Having a locums bullpen is also useful if you need to manage a float pool. Once you've determined where and when your permanent staff will be working, you can more easily fill in the gaps using providers who are already credentialed and familiar with your facility.
Make the right hire: 7 ways to ensure you get a quality locum tenens provider every time
How to build your bullpen
If you've determined that a locums bullpen is right for your organization, here are some tips for creating a successful bullpen strategy.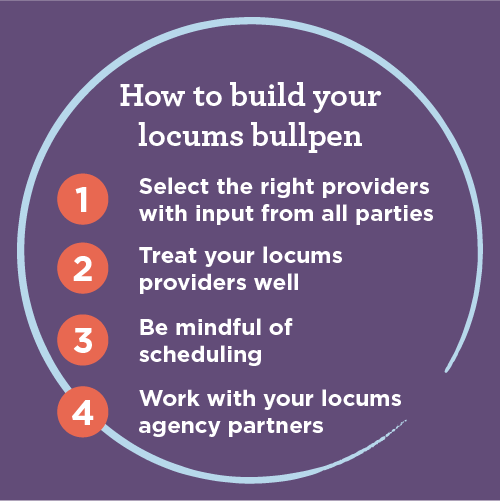 1. Select the right providers with input from all parties
Figuring out which locums providers are a good fit for your facility's bullpen doesn't have to be a difficult process, but it does help to gather input from all parties.
"You should have some established ability to review a provider's performance," says Jacobs. "Your goal is to build a bullpen, but at the same time you need to know if people aren't working out. Ask: Is the provider doing their charts? Do you like them on the team? You come up with your own set of criteria that will give you the information you need."
Stevenson said her review process is short and to the point. "It's saying, 'Are they a good practitioner? Would you welcome them back to your practice?' At the end of the assignment, we're also asking, 'Do we want to keep them enrolled in our plans, in case we might need them in the future?' It's an organic conversation that happens."
2. Treat your providers well
Once you've selected a provider to be part of your bullpen, make an effort to keep the relationship positive.
Douyard says he always explains to his providers that he would like to keep them credentialed for future needs. To make it easier on the provider, Bayhealth pays those providers an hourly rate to complete mandatory online trainings and other annual requirements that are needed to stay credentialed.
At Einstein, Jacobs has tried to improve the locums experience so providers prioritize assignments at his facility. In addition to providing upgraded accommodations for their locums, he makes sure to reach out to locums he'd like to work with again personally.
"Make sure the assignment ends on a good note," he says. "Combine that with the overall experience, and if they know that you're taking care of them, then your ultimate goal of getting them back is enhanced."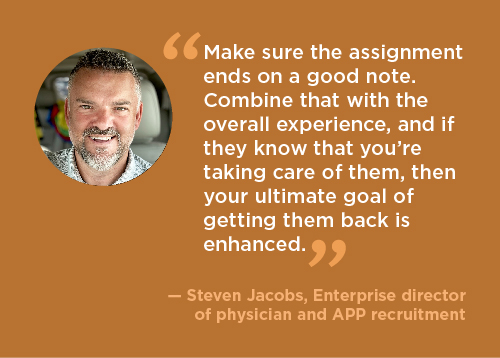 Take care of your physicians: 5 strategies for improving physician well-being
3. Be mindful of scheduling
Just because you have a provider in your bullpen doesn't mean that they'll always be available to work for you. This is why many recruiters prefer to have several providers credentialed at a time.
"The bullpen eliminates a timing issue because providers are credentialed and on medical staff, and now it's a matter of availability. Are they available, or can they be made available?" says Jacobs. "Sometimes I've had it where people have ended another assignment early or a company found a replacement for them so they could come to Einstein."
This is also part of the reason Jacobs tries to give his locums providers the best experience possible. "Having a good experience with you will trump other opportunities in their mind," he says. "If they have a conflict and say, 'Well, I was going to take an opportunity in Vermont, but I'm going to come to Einstein because it's familiar and I know how to do it.'"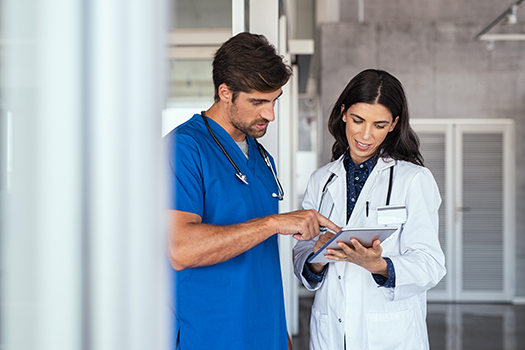 4. Work with your locum agency partners
Scheduling the locums in your bullpen is easier when you have an agency you can actually partner with.
Jacobs has found that having a bullpen has strengthened his relationship with his agency partners. "When we can say, 'Dr. Smith was fantastic. I want this provider in my bullpen. We're going to keep him simmering until we need him again,' I think it helps everybody. When you can solidify good players, that makes it easier for us to call back and say, 'Remember Dr. Smith? He's still got privileges. We're going to need him. Can you see what you can do?' It's a lot easier conversation."
Streamline your recruiting: 5 reasons to use the same staffing agency for permanent and locum tenens jobs
Everyone benefits from a locums bullpen
When you find a quality locum who enjoys working at your facility, a locums bullpen makes it easier for them to return. There's less paperwork to complete, onboarding is shorter, and they can get to work faster, ultimately providing better patient care. In the end, it benefits everyone.
CompHealth has the locum tenens physicians and advanced practice providers to help meet your staffing needs. Give us a call at 800.453.3030 or complete the form below.