About 60 percent of nurse practitioners saw an increase in income during 2021, according to the Medscape APRN Compensation Report 2022. While the average NP salary has increased since 2020, many other factors affect pay as well. Read on for the highlights of this year's NP compensation report.
Nurse practitioners earn the highest salaries in inpatient care
NP's providing hospital inpatient care continue to earn the highest salary, an average of $126,000 annually in 2021. However, those working in hospital-based outpatient settings or clinics earned a similar wage (an average of $123,000 annually), followed by those who work in nonhospital-based medical offices or urgent care clinics (an average of $119,000 annually).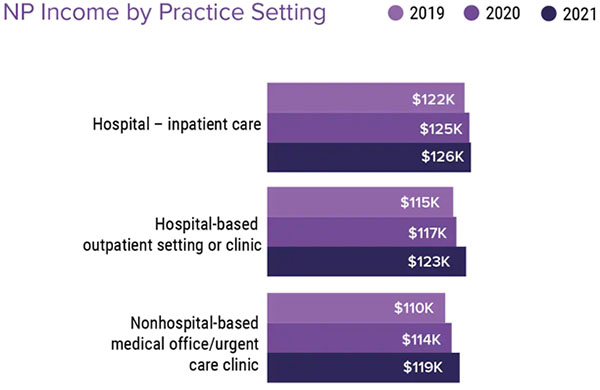 Most NPs (25 percent) work in nonhospital-based medical offices or urgent care clinics, while 22 percent work in hospital-based outpatient settings and 17 percent work in hospital inpatient care.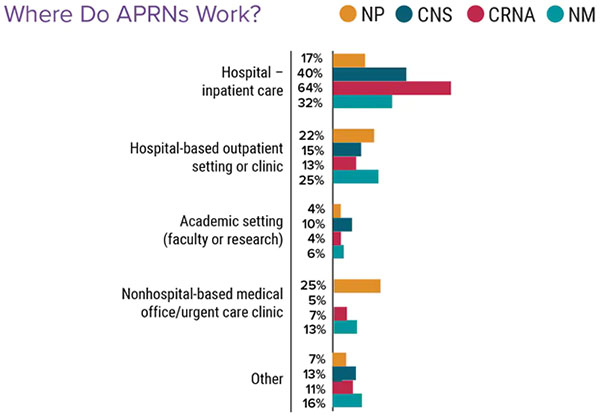 Psychiatric mental health nurse practitioners rank highest in compensation
While nearly all NPs hold advanced practice certifications (more than half hold a family NP certification), those with psychiatric mental health certifications earn the highest NP salary, an average of $132,000 annually.
Other highly paid specialties for nurse practitioners include adult-gerontology acute care NPs, who earn an average of $127,000 annually, and adult-gerontology primary care NPs, who make an average of $120,000 annually.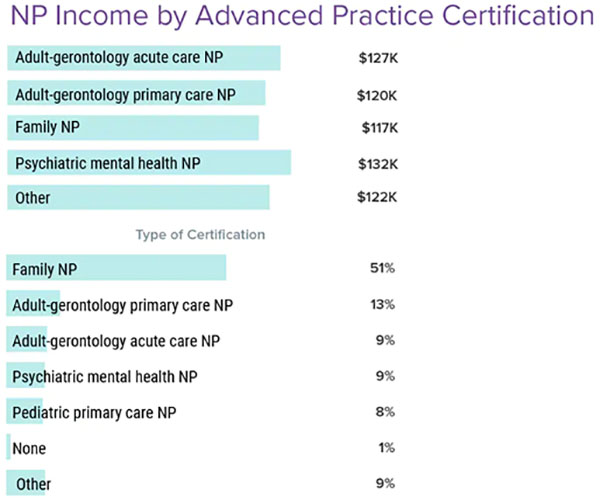 Nurse practitioners with a doctorate degree earn a higher salary
NPs with a doctorate degree earn about four percent more than their counterparts with a master's degree. In 2021, those with a doctorate earned an average of $124,000 annually, while those holding a master's degree earned an average of $119,000 annually.

Of those who participated in Medscape's survey, about eight out of 10 NPs held master's degrees. Only one out of five NPs surveyed held doctorate degrees.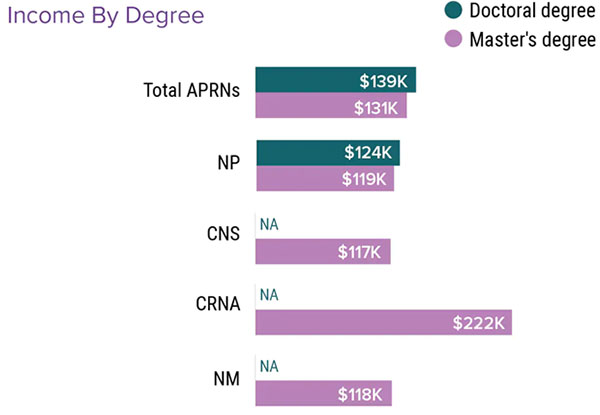 Male nurse practitioners earn more than female nurse practitioners do
Male NPs earned an average of $130,000 in 2021, about nine percent more than female practitioners earned (an average of $119,000). For context, more than 75 percent of advanced practice registered nurses (APRNs) surveyed were women.
However, male NPs reported working extra shifts and overtime and taking charge-nurse responsibilities more than female NPs did. They also work more often in inpatient units than female NPs do, and those who work in these settings earn a higher salary.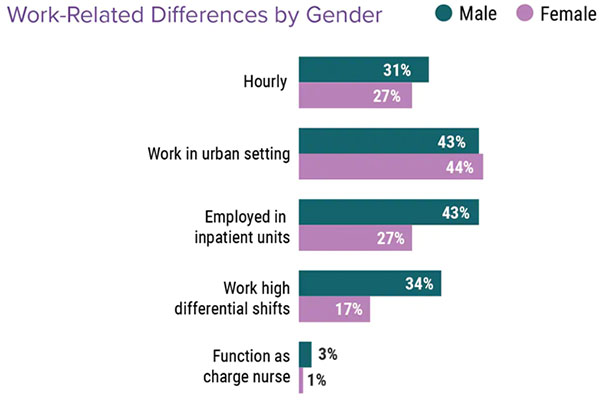 Nurse practitioners working in the Pacific Northwest earned the highest salaries
NPs in the Pacific Northwest region (which includes Alaska and Hawaii) earned an average of $140,000 annually in 2021. Those working in the Mid-Atlantic region (New York, Pennsylvania, New Jersey, Delaware, and Maryland) earned the next-highest salary, about $124,000 annually. NPs in the East South Central region (Kentucky, Tennessee, Mississippi, and Alabama) earned the lowest salary, about $108,000 annually. There was insufficient data for the New England, Mountain, and West North Central regions.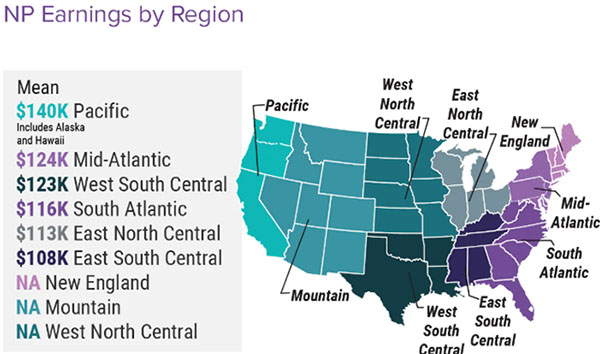 However, it's important to consider cost of living when deciding where to live and work, as this also affects your take-home pay. For example, while Hawaii is included in the Pacific Northwest in Medscape's report, its salary ranks lowest on this list of NP salaries adjusted for cost of living.
Half of nurse practitioners do not feel they are fairly compensated
Fewer nurse practitioners feel they earn a fair salary in the latest survey, with 48 percent agreeing with the statement. The year prior, in 2020, 53 percent agreed with the statement. In general, older NPs felt they are more fairly compensated than younger practitioners.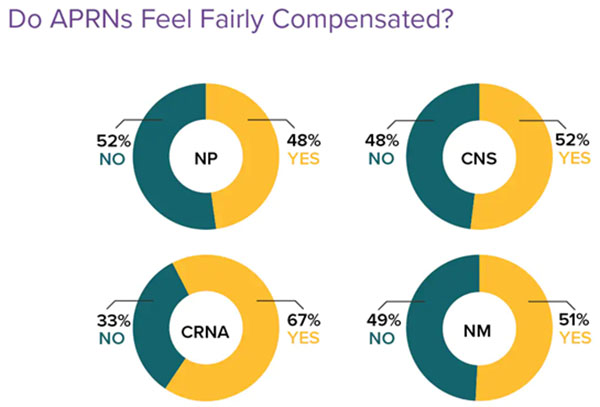 If you are among the nurse practitioners dissatisfied with your current salary, the statistics above can provide you with ideas for how to increase your income. These include:
Consider obtaining more education, as NPs with a doctorate earn a higher salary
Try a different specialty or earn an advanced practice certification
Work in an inpatient hospital setting
Move to a new area (you may be surprised to learn that nurse practitioners in Iowa have the highest hourly wage when adjusted for cost of living)
Working locum tenens or as an independent contractor can also help you earn additional income. Whether you prefer to leave your full-time position to travel permanently or simply want to take extra work on the weekends, locum tenens can offer a change of pace, higher salary, and a schedule with more flexibility.
CompHealth can help you advance in your NP career. Give us a call or view today's NP job openings.