Medscape's 2022 Orthopedist Compensation Report analyzes orthopedic surgeon salary trends and how they compare to physicians of other specialties. The annual report also offers insights into orthopedist job satisfaction, supplemental income opportunities, administrative burden, and the aspects of the job found to be most rewarding and most challenging. The latest report found that the average orthopedic surgeon salary rebounded in 2021, making it one of the highest paid physician specialties with strong job and specialty satisfaction.
Orthopedic surgeon salary and bonuses in 2021
Orthopedic surgeons reported an average salary of $557,000 in 2021, coming in second only to plastic surgeons for highest paid specialty. Average compensation for orthopedic surgeons climbed 9% over prior year earnings ($511,000), when medical practices were still feeling the financial impacts of the pandemic.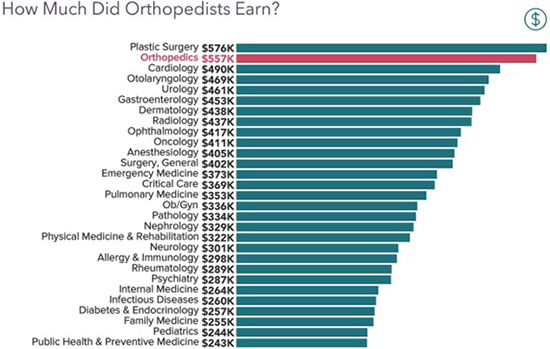 Overall, 57% of physicians surveyed receive an incentive bonus. Orthopedic surgeons commanded the highest incentive bonus among specialties surveyed. The average orthopedist bonus in 2021 was $126,000, an increase from the prior year average of $116,000, representing nearly 9% growth year over year.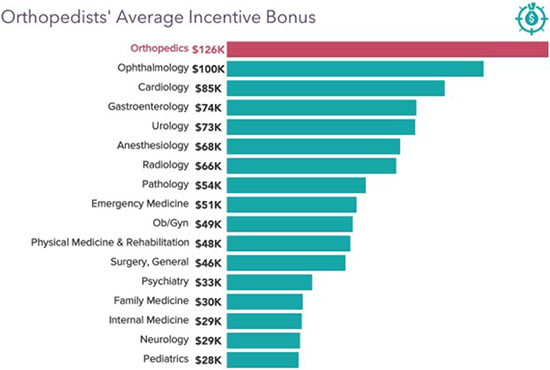 While compensation for orthopedic surgeons increased overall, those who experienced a decline in earnings this year most often cited lingering COVID-19-related factors (82%)
Compensation, job, and specialty satisfaction
Despite their relatively high pay, roughly half (52%) of orthopedic surgeons feel fairly compensated, a figure which places them in the lower third of physicians surveyed. One potential contributor to a sense of feeling unfairly compensated is the methods used to calculate salary. Production bonuses that can discourage extra time spent with a sick patient or other measures that don't feel meaningful or relevant may have a negative impact on the sense of feeling fairly compensated.
Even so, the report indicates high job and specialty satisfaction among physicians and among orthopedic surgeons, especially. Seventy-eight percent of orthopedic surgeons would choose a career in medicine again and an overwhelming 97% of orthopedic surgeons would choose their specialty again — second only to dermatologists (99%).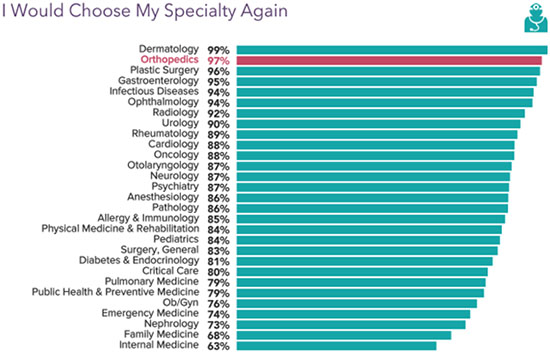 Administrative responsibilities
Orthopedic surgeons reported spending an average of 14 hours per week on administrative responsibilities, placing them in the lower third of administrative time spent per specialty and slightly less than the average administrative time reported by physicians overall (15.5 hours per week).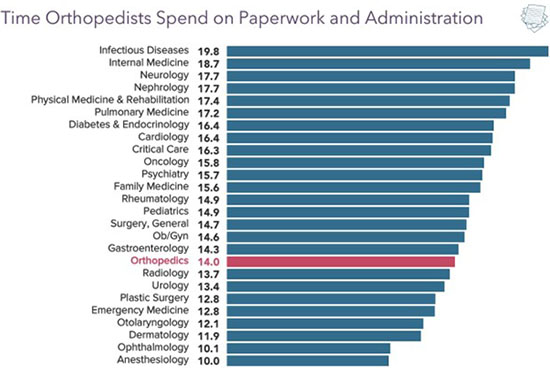 According to one study, a physician spends an average of 16 minutes per nonsurgical adult patient visit entering information into the patient's electronic health record, which can add up quickly.
The administrative burden placed on physicians is one reason orthopedic surgeon Dr. David Hubler decided to leave private practice to work locum tenens. "I was in private practice for 29 years and it got to the point where I would work until 5 - 5:30 pm seeing patients but it would be 8:30 or 9:00 by the time I finished up all the paperwork," Dr. Hubler says. "Locums simplified a lot of that. Yes, we have some computer work and paperwork but it's not nearly what it was operating my own office."
Employed vs. self-employed orthopedic surgeons
Orthopedic surgeons employed by hospitals, health systems, or other organizations earned an average of 8% more than their self-employed counterparts according to the survey. This is counter to the trend for physicians overall, where self-employed physicians reported average compensation 20% higher than employed physicians.
Orthopedic surgeons are somewhat more likely to take on supplemental work, relative to physicians in general. Four in 10 orthopedic surgeons reported taking extra work to supplement their full-time income. For most, this includes medical-related work or medical moonlighting, such as locum tenens work.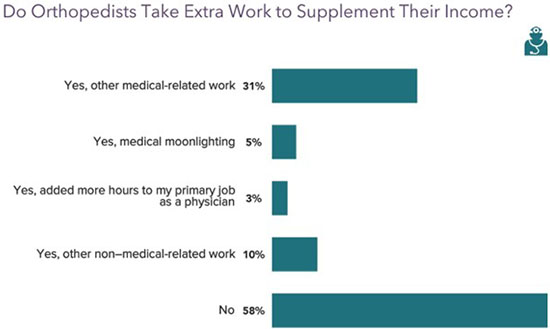 Common reasons for pursuing supplemental work include early or semi-retirement, greater financial independence, and outstanding student debt. For others, autonomy and flexibility may drive their decision to explore employment options outside traditional employers.
For orthopedic surgeon Dr. Sonya Sloan, the increasing demands on physicians, fewer financial incentives, and limited say in her own schedule led her to turn to locum tenens work over an permanent job.
"I believe that 'better' comes in the form of the autonomy I can have as a locum tenens doctor," says Dr. Sloan. "Gone are the days when being hired meant you took what contract looked great and hoped for the best. Now, you can create the best quality of life for yourself."
Most rewarding and challenging aspects of orthopedic surgery
When asked about the most rewarding aspects of their job, 33% of orthopedic surgeons credited relationships with and gratitude from patients as the most meaningful part of their work. Another 27% of orthopedic surgeons surveyed said finding answers and diagnoses was most gratifying, and 21% felt satisfaction from the feeling of helping others and making the world a better place.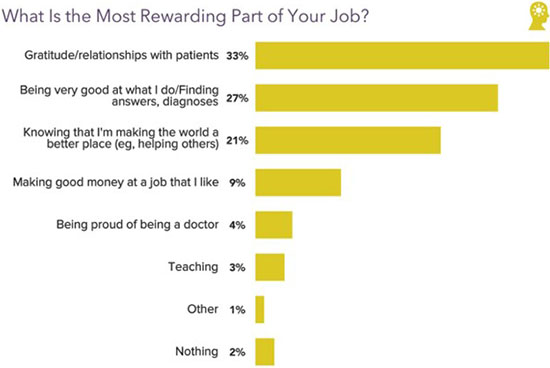 Among the aspects of their work they find most challenging, many cited the difficulties associated with being fairly reimbursed by or dealing with Medicare and other insurers (25%). Others pointed to the challenges associated with rules and regulations (23%), consistent with physicians overall.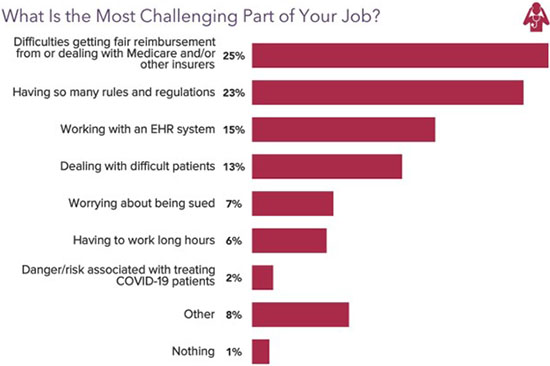 Among the more than 13,000 physicians that responded to Medscape 2022 survey, orthopedic surgeons saw some of the strongest salary growth in recovery from the COVID pandemic. That trend, combined with high demand for orthopedic services, bodes for physician practicing in this field.
RELATED: How locum tenens works for surgeons
Looking for a new opportunity? CompHealth can help you find the perfect orthopedic surgery job. Give us a call at 800.453.3030 or view today's job opportunities for orthopedic surgeons.
Chart images from Medscape.com