Medscape's 2023 Orthopedist Compensation Report is out, and orthopedic surgeons are again at the top of the list — second only to plastic surgeons regarding average compensation by specialty. The report also analyzed data related to pay, day-to-day activities, and overall job satisfaction. Here's what you need to know about orthopedic surgeon salary trends in 2023.
Average orthopedic surgeon salary increased
The 2022 Medscape compensation report found that the average orthopedic surgeon's salary was $557,000. In the 12 months since then, that number has risen to an average of $573,000.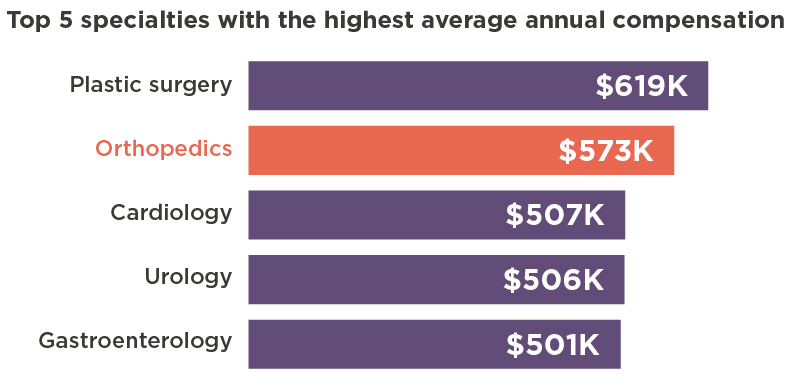 Despite the high ranking for compensation overall, the three percent year-over-year increase is on the low side for physicians in general. At least six specialty groups saw double-digit increases, and psychiatrists and plastic surgeons (with their eight and seven percent increases, respectively) weren't far behind them.
The report found that cuts in Medicare and stagnant reimbursement rates were the reason many physicians' salaries didn't increase much in the past year. Whether or not this was true for orthopedic surgeons wasn't specified, but it may play into overall compensation trends among physicians.
Many orthopedic surgeons rely on bonuses and side gigs
According to Medscape's numbers, a significant portion of orthopedic surgeons' income — $134,000 on average — comes from their incentive bonuses. This is a sum orthopedic surgeons must earn by performing a certain number of procedures or treating a specific number of patients.
Medscape found that the average bonus for orthopedic surgeons is considerably higher than it is for other doctors — but it also means their salary may decrease considerably if they fail to qualify for it.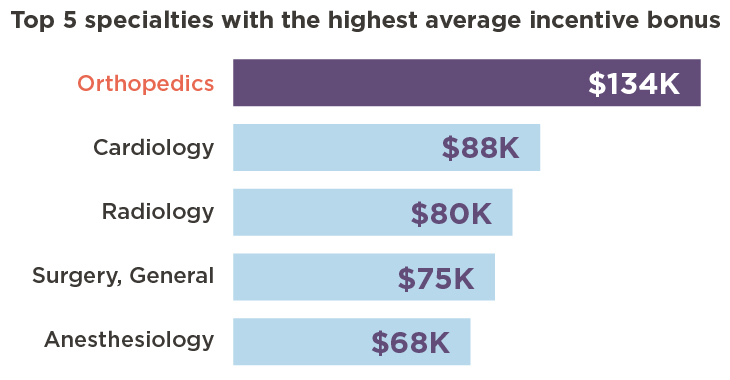 Bonus or not, just under 50% of orthopedic surgeons feel they are fairly compensated for their full-time work as surgeons — a statistic that puts them in the bottom half of physicians who state they're satisfied with their pay.
It might seem strange that specialties who are paid less than orthopedic surgeons would feel more satisfied with their pay. A medical recruiter interviewed for the report gives the following insight that might explain the discrepancy: "Often physicians with a high salary are part of a large organization, so there's probably some heartburn. They know what reimbursements are, but the organization takes a large part."
If 49% of orthopedic surgeons feel their compensation is something less than fair, a similar percentage of them (at least 40%) seek to augment that compensation by taking on extra work — in the form of extra shifts, short-term locum tenens assignments, or even work opportunities outside of medicine.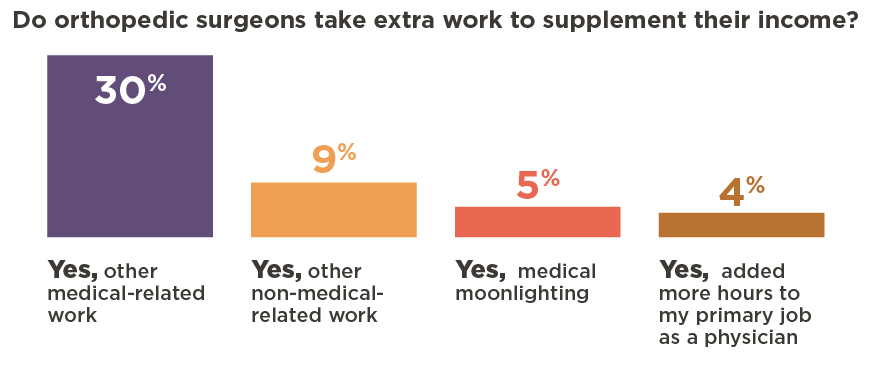 Of course, not all orthopedic surgeons saw their income go up in 2022. As with any specialty, some saw it go down. What's notable here, though, is that among those orthopedic surgeons who did see it go down, a minority of them noted Covid-19 as the reason, which continues the trend from last year.
Most orthopedic surgeons like their jobs
Despite any frustration surrounding pay, orthopedic surgeons are generally happy with their choice of profession. If they had it to do all over again, roughly three out of four say they would choose medicine for their career. And of that segment, a whopping 95% say they would choose to become an orthopedic surgeon.

Dr. Sonya Sloan, an orthopedic surgeon who has worked in hospitals throughout the U.S., is a prime example of this enthusiasm. Not only does she love her job, but she also loves the lifestyle that comes with it. Granted, Dr. Sloan isn't your typical orthopedic surgeon. She works locum tenens, meaning she has full control of when and where she works. Her contracts are short term, and she chooses whether or not to accept them.
"What a locum tenens doctor knows that other doctors do not know, is that we no longer live in an archaic time period of just working your ass off with no quality of life," she says. "Gone are the days when being hired meant you took what contract looked great and hoped for the best. Now, you can create the best quality of life for yourself."
Spending time on administrative tasks
Medscape found that orthopedic surgeons spend less time on paperwork and administration — nearly five hours less on average than several other types of specialists.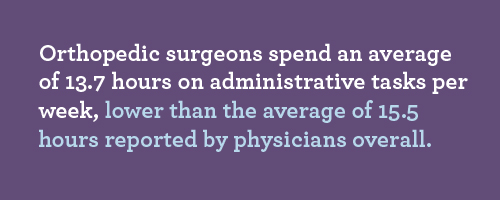 That said, the 13.7 hours per week reflected in the report is still a heavy burden. Dr. David Hubler, an orthopedic surgeon with 29 years of experience, says that before switching to locums, he typically ended with patients around 5:30 in the evening but then had to spend the next three to four hours on paperwork for insurance companies and the government.
Fortunately, going locums "simplified a lot of that," he says. "Yes, I have some computer work and paperwork. But it's not nearly what it was when I was operating my own office."
The best part of being an orthopedic surgeon
When asked what the most rewarding part of their job is, over 80% of orthopedic surgeons chose one of the following responses: 1) gratitude from patients; 2) being good at their job, i.e., diagnosing problems and finding answers; or 3) making the world a better place by helping others

Locum physicians like Dr. Hubler might add the gratitude they feel from the doctors and nurses they meet during their locum assignments. "When I go to places, the staff at the hospitals and clinics really appreciate my being there, and they tell me so," he says. "I keep thinking, 'Gee, this is more appreciation than I got when I was working full-time in one location!' Locums really do fill a need."
When asked what the most challenging part of their job is, nearly half (48%) of the orthopedic surgeons surveyed responded with either "getting fair reimbursement" or "having so many rules and regulations."
Upwards and onwards for orthopedic surgeons
Overall, Medscape's 2023 Orthopedist Compensation Report seems to suggest it's a good time to be an orthopedic surgeon. The pay is above average; there are many rewarding aspects to the job unrelated to money; and the vast majority of orthopedic surgeons feel that, as far as medicine goes, they are in the best possible job they could be in.  
Do you want to increase your orthopedic surgeon salary? Give us a call at 800.453.3030 to learn more or view today's locum tenens orthopedic surgeon job opportunities.