Most healthcare organizations know the importance of a streamlined physician onboarding process. But the smooth ending of a physician's tenure is just as important — both for the facility and for the physician. This is particularly important for locum tenens physicians, who typically come and go more quickly than permanent staff members.
That's why healthcare facilities should develop a robust offboarding process. A well-defined action plan will ensure continuity of patient care, enhance the physician's overall experience, pave the way for the incoming physician, and generally make life easier for facility staff.
"There's a lot of information the physician needs to transfer to someone. Knowing what that process is benefits the patients, but it also benefits the facility in that the nursing staff is happier and the auxiliary staff is happier," explains Daniel Allison, director of national accounts for CompHealth's locum tenens division.
"The off-boarding process should be determined before the physician even gets there," says Allison. And that process should be communicated to anyone who will need to follow-up after the physician is gone.
"We want to make sure the physician feels confident in their ability to practice medicine while they're there, and the facility feels confident in their ability to manage the care after the physician leaves."
Avoid frustrations
"Most doctors have a really strong sense of ownership and personal responsibility for their patients," Allison says. "If we don't have a good transition plan, the physician gets really frustrated. That's one of the things they will notice before anybody else notices, because they're always thinking about what's going to happen to the patient."
And it's not only the physician who is frustrated by a bumpy transition; it makes things difficult for the facility as well. "If we have a provider who is leaving — whether it be permanent or a locums — and the offboarding is not handled properly, it can leave the staff in limbo trying to pick up the pieces. It disrupts patient care as a whole," says Mistie Cannon, a physician recruiter responsible for coordinating locum tenens for Northern Light Health in Bangor, Maine.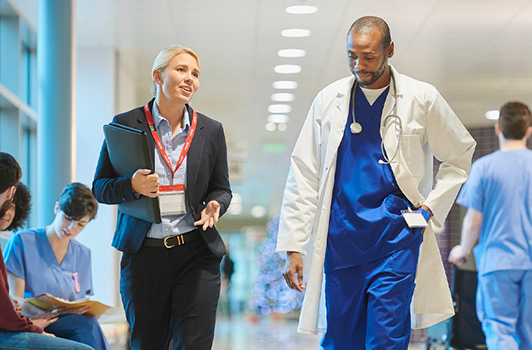 Tie up loose ends
In order to ensure continuity of care, physicians need to fully complete charting and billing before they leave an assignment or a permanent position. This is vital so that another physician who goes in can read the notes and be able to pick up right where they left off.
Unfortunately, charting is a task that can be overlooked for too long. Allison says it's important to set expectations up front that charting must be completed in a timely manner, rather than being left for the very last minute. Leaving it too long "puts a ton of pressure on the physician and puts a ton of pressure on the facility. Best practice would be to talk about charting the whole time," he says.
At Northern Lights Health, the team sets up an action plan two weeks before the physician leaves to make sure all charting and billing is finished. Additionally, "we give them either a day or a good half a day at the end of the assignment to make sure that their charting and their desktop is cleared and taken care of," Cannon says.
"It's very important that the documentation is complete — that they're not leaving issues for anyone else to take care of," she says. "If that means we're paying them for half a day to complete that, then it's money well spent in our eyes."
Be proactive
Physicians can do a lot to ensure an easy transition. In addition to staying on top of their charting and billing, they should thoroughly communicate with facility staff what follow up will be needed after they leave. Most importantly, physicians should not hesitate to reach out to staff for help if they need it. Staff are generally happy to assist, especially if it ensures patient care and operations will continue uninterrupted.
The key is thorough communication on all sides. Set expectations from the beginning, then touch base often, especially as the physician's tenure draws to a close. The result will be a seamless handoff that makes life easier for both physicians and facility staff — and ensures excellent patient care will continue uninterrupted.
Need help recruiting physicians for your healthcare facility? Give us a call at 800.453.3030 or complete the form below.