Laura Bruse, MD, is an orthopedic surgeon who has completed 50+ locum tenens assignments. In this article, she shares her insights on what it takes to get licensed and credentialed to practice in a new state.
So you want to practice in a new favorite state. Whether you are interested in a short-term locum tenens assignment or are looking to relocate for a permanent position, it will require more than just updating your CV and packing your suitcase. This guide will help you understand what you need to obtain a medical license in a new state and get credentialed with a new hospital system.
Working for federal health programs
If you want to work for the federal government for either Veterans Affairs (VA) or the Indian Health Service (IHS), you probably won't have to get a new license to practice in a new state. Any state license will allow you to work at a VA hospital in any state. For example, if you want to work in a VA hospital in Alaska, and you live in Florida, your Florida license will work. Just make sure it will not expire prior to starting the first assignment. Check the expiration date on your license and renew it well before the assignment begins, if needed.
Like the VA, an Indian Health Service hospital is a federal government facility, so any state license will allow you to work in that facility. A full list of IHS hospitals can be found on the IHS website.
Getting a new state license
If you are interested in practicing in a new state outside of the federal health system, you will most likely need to get licensed in that state. The Federation of State Medical Boards (FSMB) has a comprehensive list of contacts for the medical boards in all 50 states. The Interstate Medical Licensure Compact may help with expediting the process, depending on where you hold your primary license (State of Principal License) and which state you are looking to practice in.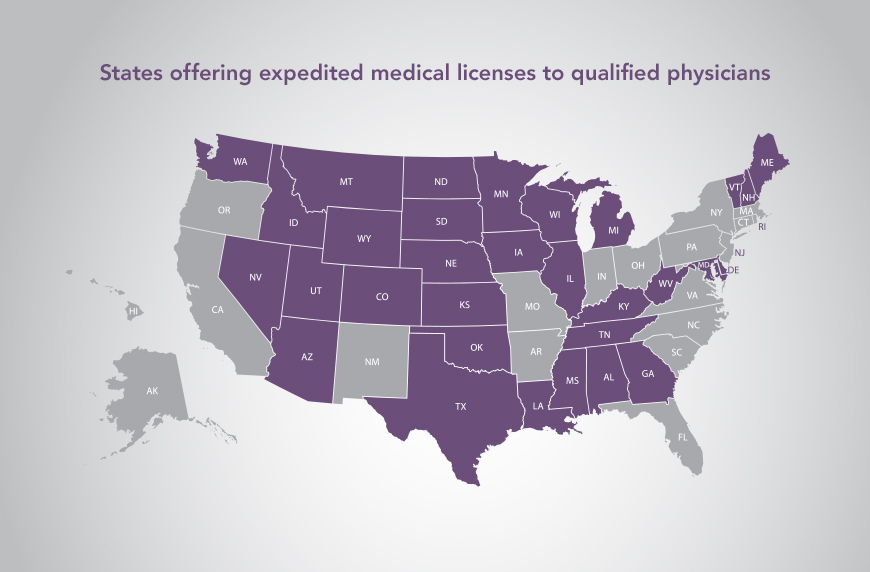 A good way to streamline the process of obtaining other state licenses is to establish a repository of verified core credentials with the Federation Credentials Verification Service (FCVS). This allows you to maintain all your professional educational certificates in one easily accessible location. Credentials stored within the FCVS may be used for multiple state board applications, and many state boards use this centralized repository as a source for obtaining the information they need for licensing. There is a fee to use the FCVS.
In order to obtain a medical license, each state has specific requirements related to your performance on the USMLE and other tests.
It is important to keep all currently obtained licenses active. Be sure to give yourself sufficient time to renew each license unless you want them to expire. Renewing a state license may take as little as two weeks (e.g. a temporary Nebraska license) or up to three to six months or even more (e.g. California, Florida, Nevada, Texas).
Reporting from the NPDB
It is also important to understand what information may be obtained about you by a healthcare organization or the state where you hope to be licensed. A key resource used by most organizations for licensing and credentialing is the National Practitioner Data Bank (NPDB). The NPDB collects information on individual healthcare practitioners and organizations. A NPDB query will provide results that represent your professional record, including any reportable adverse actions. When applying for licensure in another state, you may be required to do a self-query and submit the results as part of your application. The type of information gathered by the NPDB may include:
Medical malpractice payment reports
Any state licensure actions
Exclusion or debarment actions
Government administrative actions
Clinical privilege actions
Health plan actions
Professional society actions
Judgement or conviction reports
Peer review organization actions
Additional needs
Other items needed for full credentialing with the locum company or a hospital system include the following:
Valid driver's license
Passport
Certificates: Keep copies of all your college certificates, any other degrees or fellowship certificates, and board certifications. Copies of these will be required as part of any application process. Generally emailing a PDF scan of your certificates will suffice.
CMEs: Credentialing and state licensure both require maintenance of your medical education as evidenced by CME certificates or recorded CME participation.
Other education: Keep a record of any specialty courses or other educational programs in which you have participated.
Opportunities to practice in new parts of the country as a locum tenens physician can be exciting! Stay organized and with the help of your locum tenens company, the process of getting licensed and credentialed for your new job can be easy and efficient.
Where would you like to practice? CompHealth has locum tenens and permanent opportunities in all 50 states. Give us a call at 800.453.3030 to learn more or view physician job openings in IMLC member states.
Updated April 4, 2022