PAs have more career options than most people realize. Although there are plenty of clinical jobs in outpatient clinics, hospitals, and other settings, there are also non-clinical careers you may want to consider. Whether you've just graduated or are simply looking to make a career move, here are nine different career options for PAs.
1. Pharmaceutical, biotech, and medical informatics
Pharmaceutical and biotechnology companies and medical device manufacturers are seeking PAs for research work, medical clinical trials, regulatory affairs, and communications. Taking a position as a medical liaison or quality control professional is a way to use your medical skills without the day-to-day clinical work.
Andrea Lowe, MBA, MHA, PA-C, director of health equity partnerships for the American Academy of PAs (AAPA), says they're starting to see more PAs working in the field of medical informatics as well. "It's a growing field. I have a couple of colleagues who just procured positions as chief medical informatics officer or director of medical informatics for large institutions," she says. "They've always been into EHRs and linking quality to the clinical setting."
2. Public health and advocacy
Sondra DePalma, DHSc, PA-C, DFAAPA, director of regulatory and professional practice for the AAPA, says she's seeing more PAs taking jobs in public health. "There are PAs working for Centers for Medicare and Medicaid Services (CMS) and the NIH doing work in public health and equity that complements their clinical experience," DePalma says.
PAs in the public health sector are tasked with helping shape health systems by working on policy development, and assuring access to environmental, educational, and personal health services. A job in the public health sector may require a Master of Public Health degree, but it's not necessarily a requirement.
A career in federal advocacy can also be a good option for PAs. This involves working in tandem with federal and state lawmakers, the White House, and other government agencies to ensure the voice of PAs is heard in our nation's capital. The aim is to help lift barriers that limit the scope and reach of the PA profession. As an advocate, you'd work to enable PAs to practice medicine to their full ability.
3. Locum tenens
Staffing shortages in facilities nationwide have made locum tenens a lucrative job prospect for many PAs. As a locum, you can work full-time or part-time, set your own schedule, and pick and choose where you want to work. Many PAs say locums has been a remedy for burnout and has improved their work/life balance.
"I feel like I have less stress in my life working locums," says orthopedic surgeon PA Jason Raehl. "When I'm not seeing patients, I spend time with my wife and travel. I like the flexibility it provides."
Terry Rand, PA-C, considers every locums job to be a working interview. "You get to try out the job, you can see if you like the location, and there's no long-term commitment," she says. "If it's a good fit then they may hire you permanently. If it's not, then you're not locked into something you don't want."
4. Working for a nonprofit
DePalma says she encourages PAs to volunteer, whether it be in their community or a professional organization. "That reward you get can stave off some of the effects of burnout." It can also be a path to employment at a non-profit, either domestically or internationally.
There is desperate need for access to medical care worldwide. If you're curious how medical missions work, there are many nonprofits to choose from, like International Medical Corps and Doctors of the World. These organizations can find you locations to provide the medical care you're passionate about. It can be incredibly rewarding work, and you'll be providing care to those in need.
Cara Bosco, PA-C, worked for the medical nonprofit Flying Medical Service in East Africa right out of PA training. "I was doing primary care triage for children who would have never had access to medical care otherwise. I think on a lot of levels I probably got more out of it than I was able to give; it was phenomenal."
5. Academics
If teaching and mentoring future PAs sounds appealing, you may want to explore career options in academics. This field may require advanced degrees or additional certifications. The Physician Assistant Education Association (PAEA) is a great resource for information on furthering your education if you're looking for a career path in academics.
Working as a PA in the field of academics may mean less time with patients, but you'll be directly involved in educating up-and-coming PAs.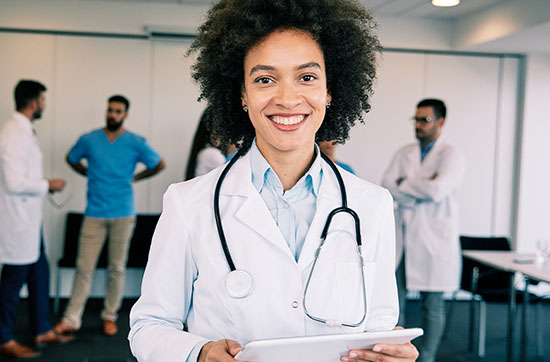 6. Hospital medicine
About 30% of PAs work primarily in hospitals or inpatient settings, including emergency departments. It's an ideal setting for collaborative medicine while delivering comprehensive care. Responsibilities for a PA in hospital medicine are admitting patients, conducting patient rounds, issuing orders for medicine and treatments, and providing first assistant coverage in the OR.
Additionally, PAs in hospitals say they're more satisfied with their careers, and report a higher base salary. They are also more likely to be in a leadership role and feel they have more of a career pathway at their facility.
However, this may not be the ideal specialty if you're looking to work more autonomously.
7. Outpatient/urgent care
In the last decade, there's been an increasing demand for urgent care and outpatient services from patients and insurers alike, in part because of the high cost of an ED visit. Working in urgent care requires the use of a wide array of medical skills and quick response to a patient's emergent needs. You'd treat a variety of conditions, like:
Sprains and fractures
Lacerations
Evaluation for further treatment
Acute illness and injury
The downsides of a career in urgent care is the clinic may have late or weekend hours and you won't necessarily have access to the range of services provided in an ED.
8. Home health
If you're wanting to explore more of a one-on-one connection with your patients, home health and palliative care may be the way to go. It's a way to practice medicine more independently and establish a more meaningful one-on-one relationship with your patient.
The downside is you won't have immediate access to the equipment you'd have at hand in a healthcare facility, and there's much less structure. However, this does open the door to practice more independently.
9. Telehealth
During the COVID-19 pandemic, telehealth emerged as the fail-safe for patients needing medical care while the world was in quarantine and this convenient method of care delivery has continued to grow. Many PAs have leaned into this new way to practice medicine.
Your responsibilities as a telehealth provider may include taking medical histories, assessing symptoms, providing treatment options, and determining if patients need to visit a healthcare professional or require additional referrals.
One of the cons with telehealth is you won't have as much face-to-face interaction with your peers as you would working in an office or hospital setting.
Many career options for PAs
As you're investigating new opportunities, Lowe says it's important to understand "the why" when looking at PA career options. "Do your homework, do your due diligence, and ask questions. Make sure, even if it is coming from a place of being burned out, you make decisions based off of what's going to be best for you."
CompHealth can help you find the perfect PA job! Give us a call at 800.453.3030 or view today's PA job opportunities.