If you're a physician assistant or nurse practitioner looking for a new job — whether it's a permanent position or locums — you should pay attention to how care models influence the organization's culture, especially if they practice team-based care. In reviewing
physician assistant jobs
or
nurse practitioner jobs
, be sure to investigate opportunities with team-based care models if the following four cultural tenets resonate with you.  According to
recent studies
, environments that practice team-based care have been shown to greatly enhance career satisfaction.
1. Fosters clear communication
A team-based care model requires every member of the team — from NPs, PAs, and doctors to pharmacists and nurses — to share responsibilities and work towards a common goal. Instead of each professional serving the patient on their own, each professional collaborates to better serve the patient and create a better overall experience. This collaboration requires a culture that supports clear and constant communication, which can reduce conflict and inefficiencies. It also helps the team maintain a shared vision, which allows them to continuously evolve and improve their processes.
2. Empowers others to contribute
As baby boomers continue to age and healthcare becomes increasingly complex, the expertise and skill set of more than one professional is often needed to give the patient the best treatment and best overall experience. Experts show that the team-based care model empowers professionals who might otherwise feel over-managed or undervalued to contribute their knowledge, experience, and ideas in numerous ways. When searching for physician assistant jobs or nurse practitioner jobs, check on the following:
Which team members hold leadership positions?
Does the team meet regularly to discuss their goals?
Do employees feel valued by their peers as well as their supervisors?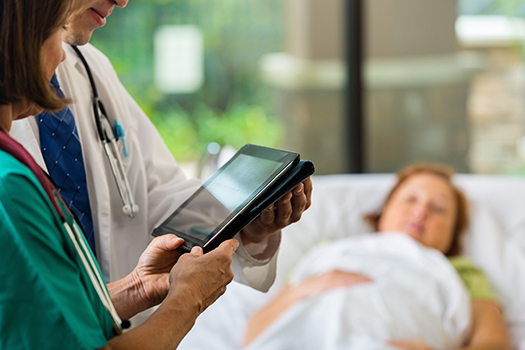 3. Improves experiences for both doctor and patient
When professionals put their heads together to design a smoother, more positive experience for the patient, everyone benefits. By delegating and spreading responsibilities out more evenly, PAs, NPs, and the rest of the care team have more time for what's most important. In this team-based environment, medical professionals are less likely to experience burnout because they don't feel like they're tackling a mountain of difficult tasks on their own. Morale also increases. With the team-based care model, many professionals report feeling less stressed, and patients love that everyone is on the same page.
4. Creates a culture of learning and progress
The team-based care model often contributes to creating a culture that promotes patient education, measurable improvement, and a clear vision for the future. Team members are empowered to go beyond the basic duties of their job and focus on how they can continue to operate more efficiently and add real value to the patient experience. Medical professionals are able to join forces in their practice to brainstorm on how they can more effectively treat certain conditions, improve the quality of treatment, and better educate patients.  This allows patients to take more effective action in controlling or managing their medical conditions. So, whether you're looking to transition from one job to the next or you're ready to land your first physician assistant job or nurse practitioner job, be sure to seek out team-based care practices to see how they might increase your job satisfaction.
We can help you find your perfect, team-based care opportunity. Give us a call at 800.453.3030 or view today's physician assistant jobs or nurse practitioner jobs.