Are you sick of winter and ready for a change? Taking travel assignments with CompHealth could be the cure for your winter blues. We place thousands of healthcare providers in assignments across the country. Whether you want to bask in the warm sunlight or prefer a colder climate where you can hit the slopes, we're bound to have that just-right travel assignment for you.
Soak Up the Sun
1. California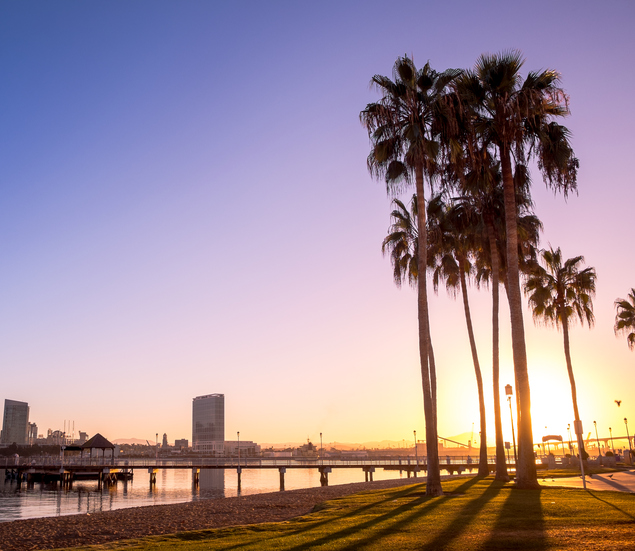 From beaches and amusement parks to skiing and surfing,
California
has a little bit of everything. Take an assignment in
Southern California
and you can spend your downtime at the beach or the Happiest Place on Earth (aka Disneyland). Winter is also the best time to do some whale watching, since thousands of gray whales migrate south to Mexico during this time.
Related: How to Find an Emergency Medicine Job in California
Additionally, winter is the perfect time to visit
Death Valley
, one of the country's largest national parks. Summer temperatures can reach up to 120°F; however, from December to February the climate is more mild and bearable for visitors. Or you could head over to Palm Springs for the day. Average winter temps are in the 70s, creating an oasis for any sun worshipper.
2. Texas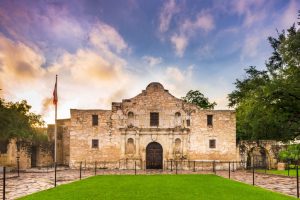 Dust off your boots and try a temporary assignment in
Texas
! Not only is the state in need of quality physicians, it offers a variety of attractions to keep you entertained during your time off. Head to Austin and experience the city's world-renowned music scene, or stop by the state's most visited historic landmark,
the Alamo
, and learn how the site's famous standoff helped Texas earn statehood. Are you a sports fan? Try an assignment in Dallas. From professional football, baseball and basketball to NASCAR and rodeos, Central Texas offers it all.
Learn more about all Texas has to offer.
3. Arizona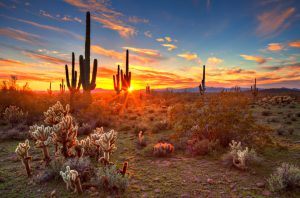 Arizona
offers ideal winter temperatures (the average high is in the 70s), beautiful scenery and an array of unforgettable landmarks, including the
Grand Canyon
and
Monument Valley
. If you love spending time outdoors, take an assignment in Phoenix or Sedona and enjoy attractions such as Bell Rock, Broken Arrow Trail, Cathedral Rock,
Chapel of the Holy Cross
and the
Red Rock Scenic Byway
. Or take a job in Tucson and spend the day playing golf or enjoying eclectic shops and art galleries in nearby Tubac. With so much to see and do, Arizona is a great winter destination for any
locum tenens
provider.
4. Hawaii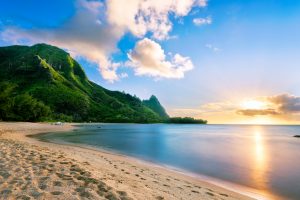 Aloha! Calling all snowbirds! Take a break from the cold in the ultimate tropical paradise. The Hawaiian Islands offer visitors unique experiences that will create lasting memories, from white sandy beaches to active volcanoes. Take an assignment in
Hawaii
and walk the picturesque beaches of Waikiki, explore
Hawaii Volcanoes National Park
, or watch the sunrise from the summit of
Haleakala
. Hawaii even offers history buffs a variety of historical landmarks, including
Pearl Harbor
and
Old Koloa Town
, which is home to Hawaii's first sugar plantation.
5. New Mexico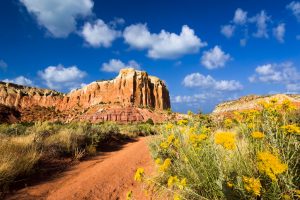 Looking for sunshine and a chance to make a difference? Take a travel assignment in
New Mexico
with Indian Health Services to provide care for patients living on Navajo reservations. These assignments have a huge impact on thousands who go without healthcare or travel for hours to the nearest hospital. When you're not working, explore the vast beauty that New Mexico has to offer. Explore the more than 100 known caves in
Carlsbad Caverns National Park
or the famous
Gila Cliff Dwellings
, a series of interlinked Pueblo homes built into caves. Although the
Albuquerque International Balloon Fiesta
isn't until October, you can still take a hot air balloon ride and enjoy a view of New Mexico from the sky. Or, if you'd prefer to stay on the ground, take a road trip and explore historic Route 66. You can even make a stop by the famous UFO crash site in Roswell.
Walk in a Winter Wonderland
1. Washington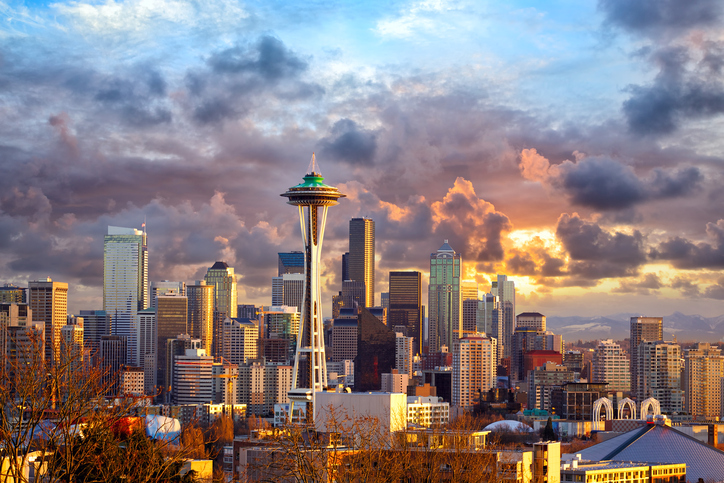 With bustling city life and picturesque mountain views,
Washington
is a great destination for any travel assignment. Head to Seattle and enjoy a variety of attractions like the
Museum of Pop Culture
or the city's most iconic attraction,
Pike Place Market
. Take in the sights from the 605-foot-tall
Space Needle
's observation deck or a ferry deck, which offers panoramic views of Seattle's skyline and harbor. Want to play in the snow? Most of Washington's popular
ski resorts
are only a couple hours outside the state's major cities. If you prefer snowshoeing or cross-country skiing, explore the winter wonderland of the
North Cascades
, 
Snoqualmie Pass
or 
Lake Wenatchee State Park
.
2. Wisconsin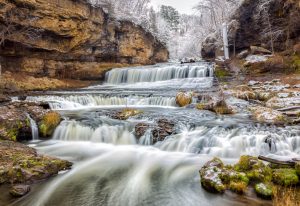 If you love everything about winter, consider taking a travel assignment in
Wisconsin
. From ice fishing and skiing to dog sledding and curling, the state offers a wide range of
winter activities
. Bundle up and explore 30 ski and snowboard areas, 700 miles of cross-country ski trails, or more than 25,000 snowmobile trails. Speed down a snow tube hill, or experience the thrill of
dog sledding
. Escape the cold and visit some of the nation's oldest breweries, and experience a cheese tasting with some of the world's best cheese makers. Then enjoy an up-close view of the night sky at one of the 10 observatories statewide.
3. New York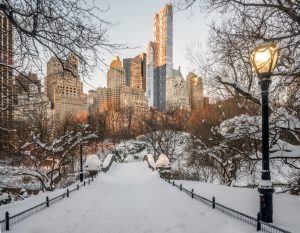 Are you in a New York state of mind? Take a locums assignment in
New York
and enjoy all that the Big Apple has to offer. From renowned museums and historic landmarks to unforgettable Broadway shows and nightlife adventures, there's something for everyone. Stroll through the snow-covered landscape of Central Park or enjoy an afternoon at
The Metropolitan Museum of Art
. If you're looking for a classic NYC experience, glide around the world-famous ice rink at
The Rockefeller Center
. Hit the slopes at one of the three Catskill Mountain resorts, or experience the winter beauty of
Niagara Falls
. Just make sure to bundle up and bring your camera.
RELATED: From the Big Apple to Upstate, Try Locum Tenens in New York
 4. Montana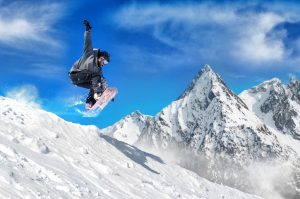 If you love the outdoors, you won't regret taking a travel assignment in
Montana
. The state offers a variety of unforgettable opportunities to explore the outdoors, and the fresh, crisp air will cure your winter blues. Montana has 15 different ski resorts, ranging from larger resorts like 
Big Sky
 and 
Bridger Bowl
 to smaller resorts like 
Snowbowl
 or 
Discovery
. Not big on skiing? Take a guided snowmobile or dog-sledding tour. The state even has more than a dozen
hot spring resorts
if you prefer a relaxing plunge to frolicking in the snow.
Learn more about all that Montana has to offer winter enthusiasts.
 5. Colorado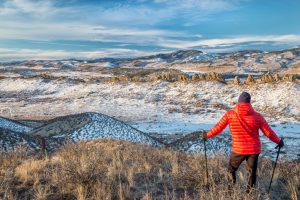 If you enjoy skiing or snowboarding,
Colorado
is the ideal location for your next locum tenens assignment. Home to
26 ski resorts
, the state offers winter enthusiasts some of the best trails in the country. Don't worry if skiing's not your thing, there's plenty of other ways to spend your time off. Snuggle under a blanket during a horse-drawn sleigh ride, or enjoy a peaceful afternoon ice fishing. If you enjoy ice climbing, head to the mountain town of
Ouray
, which is considered the ice-climbing capital of the world. Ready to start your winter travel adventures?
Check out the open locum tenens jobs at CompHealth.