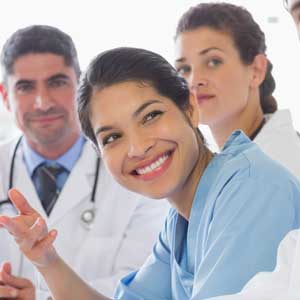 Landing a job as a nurse practitioner (NP) fresh out of residency or a fellowship doesn't have to be a challenge, especially if you plan to work locum tenens assignments.  Below are five things to know when beginning your job search.
Be flexible. While you may have your heart set on a job in a big city that pays top-dollar, you're much more likely to find a position if you're willing to budge a little on the location or even the salary. Flexibility is also an asset when deciding on a facility (such as a hospital or a clinic) and the scheduled hours. Tell your recruiter exactly what you want and what you're willing to negotiate so he or she can find a job that fits your needs.
Respond quickly to opportunities. Whether you're working with a recruiter or searching and interviewing for positions on your own, promptness is important. Consider your options carefully, of course, but respond to job offers as soon as you can — generally within three business days. Note: It may take weeks to complete the licensing and credentialing processes; responding quickly also helps speed up the paperwork.
Prepare quality references. Impress an employer by including references from supervisors and other NPs you've worked with. Letters of recommendation are ideal, and you can include these in a portfolio or email them with your resume. If you list former coworkers' phone numbers, make sure their contact information is current and let them know that an employer could be calling. 
Use your recent graduation to your advantage. You may be worried that it will be harder to land a job as a new medical school graduate, but this can work in your favor. Many facilities like to hire new NPs because they can train them according to their own specific processes. Recent graduates also have different perspectives than seasoned NPs and doctors, and employers value fresh opinions. Want more proof? Last year, 40 percent of our NP placements were new graduates.
Research facilities and prepare before your interview. Once you've got your foot in the door, it's important to impress the employer with your knowledge of the facility. Visit the website, do a quick Google search to see what people have to say about the company, and check out its social media pages to get a feel for its culture. Practice your interview responses and make a list of questions you want to ask the employer.
Not sure what you're looking for in a permanent NP job? Maybe you should consider starting out with a temporary locum tenens assignment. According to a recent survey,
95 percent of NPs would recommend locum tenens.
 Check out
this article
to find out why.
Click here for open NP jobs
.