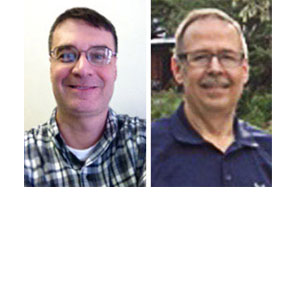 Occupational therapists (OTs) who work with CompHealth take assignments across the country — and each one has a different experience to share. Don Michael and Tom Litney are friends, former military, and regular travelers with CompHealth.
From the Military to the Midwest
Tom Litney, a Kansas native with two grown sons, was looking for a new opportunity for travel and began working with CompHealth in September 2013. After accepting his first assignment in Terre Haute, Indiana, Tom knew he'd found a company he'd like to continue working with. "[I've been impressed with] the level of commitment to my needs, both personally and professionally," he says. "I hope to continue to travel for CompHealth. It is a great option for versatility and variety that cannot be matched." While Tom continued his assignment, his recruiter, Andy, asked if he knew other OTs who could help in Indiana. An old army friend, Don Michael, quickly came to mind. "Don signed up and came to help out on a 13-week assignment. It's great to have the opportunity to work with a friend and have time afterwards to catch up on life," Tom expresses. Just like his friend Tom, Don was looking for change. He started working with CompHealth in December 2013.
A Welcome Opportunity in Indiana
"I wanted to take a break from being at the same place at the same time every day," Don says. "I am young enough to realize that I can travel and old enough to realize that my future is not dependent on a stationary setting." A Michigan native, Don enjoys his Indiana assignment because it's close enough for him to return every weekend to see his wife, 16-year-old son and 14-year-old daughter. There's also a monastery close by that he can visit often for reflection, and he continues to be active with his church. "I am privileged to work with such great people [at CompHealth]," Don says. "From HR to credentialing, the team has been proactive and fun to work with. They are as flexible and professional as I am."
Suggestions for Traveling Therapists
With his U.S. Army Reserve background, Don offers unique tips for therapists traveling to various assignments. "Always keep your packing needs simple, as you will purchase items along the way to take home with you. Travel ready by ensuring that your documents and other materials are ready at all times," Don suggests. "Keep your continuing education up-to-date, and always remember to go with the flow. Sometimes it takes a while to get used to a new situation." Tom's advice is even simpler. "From my first call to CompHealth, I felt as if I were already part of the team," he says. "Don't waste a minute more. Sign up with Comphealth and start enjoying your time as a professional traveling therapist."