Infographics are one of the best ways to visualize the changes in healthcare, including Affordable Care Act provisions, Medicare's payment formula for physicians, and even hospital readmission rates by state. We've rounded up the best healthcare infographics of 2014 and linked to them below.
Physicians and Medicare
The
Journal of the American Medical Association
(JAMA) released this infographic showing the number of physicians accepting Medicare patients and the impact Medicare's cut in payments had on patients.
State of Emergency: Overcrowding in the ER
This infographic, produced by
Milken Institute School of Public Health at George Washington University
, offers a look at the history of emergency care, the average emergency room wait times across the country, and some reasons and solutions for ER crowding.

The State of Readmission Rates
Healthcare Intelligence Network
provided this infographic showing the hospital readmission rates by state for acute myocardial infarction (AMI), congestive heart failure (CHF), pneumonia and hip and knee replacement surgery.

Urgent Care is Not Emergency Care
This infographic from
Physician One Urgent Care
explains the differences between urgent and emergency room care and the time and money patients save by choosing urgent care instead.

The Rise of the Nurse Practitioner
Maryville University
created this infographic detailing the history of the nurse practitioner, the number of NPs practicing today, and why NPs are important to addressing the healthcare provider shortage.

What Americans Pay for Health Insurance Under the ACA
This infographic from the
Kaiser Family Foundation
shows what an average person making $50,000, $40,000 or $30,000 would pay in Accountable Care Act healthcare premiums in different states across the country.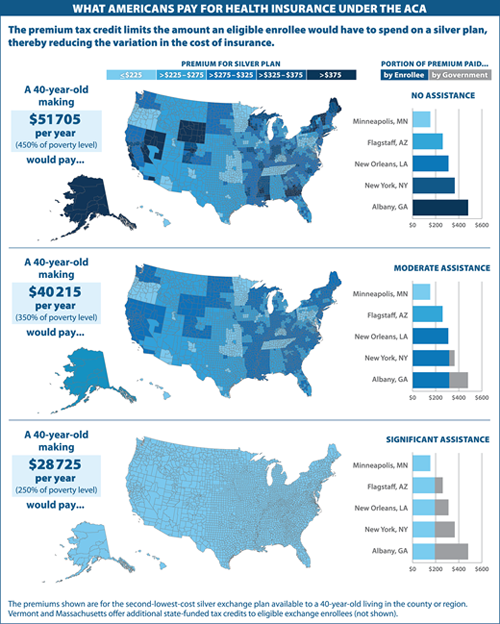 Did we miss a great infographic? Share the link with us in the comments.