CompHealth does many things throughout the year to give back to the communities where its employees live and work. Some things are small, some are big, but all focus on helping others. The biggest giving event of the year is United Way Week. In 2015 CompHealth and the
CHG Healthcare
family of companies donated nearly $700,000. The week incorporates a wide variety of fundraising and service opportunities in all of the company's various offices. In addition to United Way week, CompHealth employees develop and participate in a range of activities.
United Way Balloons Live On
One of the fundraisers during United Way week is the opportunity to send coworkers balloon messages. After the balloons were delivered and enjoyed, a group of employees realized that the balloons had more love to give. They re-inflated the balloons and took them to two local childrens hospitals in Salt Lake City. The balloons (which are latex-free and stay afloat for a really long time) brought joy to hundreds of children staying at the hospital.
Medical Staff Services Team Makes Hygiene Kits for Homeless
On St. Patrick's Day, the medical staff services (MSS) team celebrated in true Irish style with a festive potluck and dance-off, but it was taking part in a community outreach project that made the biggest impact on the team.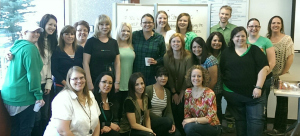 For its inaugural quarterly activity, MSS voted to take part in a service project. Looking for a way to make a difference in the lives of those less fortunate, the team partnered with the Fourth Street Clinic in Salt Lake City to put together nearly 50 hygiene kits. As a non-profit that provides healthcare and other support services to the homeless, the Fourth Street Clinic is in constant need of medical and kits full of personal care supplies. These kits are filled with items such as soap, shampoo, toothbrushes and razors collected in part by donations from dentists and a local hotel. The kits were then assembled by the team to be donated to the charity.
Girl power: Women's Workforce Employee Network Group Supports the Next Generation
Members of the Women's Workforce employee network group recently spent part of their Saturday supporting the Girls on the Run 5K. Partnering with the nonprofit organization, which uses running as a way to inspire and motivate girls to activate their life potential, was a perfect match for group. The event attracted more than 5,000 runners and spectators.
Random Acts Of Kindness
Organized random acts of kindness was another activity CompHealth participated in during 2015. The locums division leadership team and corporate business partner guests broke into groups armed with $150. Each group brainstormed unique ways to bring the core value of
Putting People First
in to action. From providing spare change to the homeless, caring for animals in a shelter or passing out flowers while riding bicycles in the downtown area, the groups provided random acts of kindness to hundreds of people and encouraged them to commit their own random acts of kindness.[su_youtube url="https://youtu.be/_YazL9-NFhE"]
Giving The Gift Of Reading to Refugees
To help fight summer learning loss amongst refugee students, CompHealth held a book drive to collect books for a local school district. The drive helped provide books to students who need them most and can greatly benefit from summer reading.
CompHealth December to Remember
The holidays come around once a year and CompHealth did a lot to celebrate and give back to the community. Each building had a giving tree put up with ornaments listing gifts wished for by local refugee families. The collected gifts were then wrapped and delivered to the families on Dec. 23.
Learn about how CompHealth physicians give back.