Did you know that CompHealth does more than just locum tenens staffing? If you're a provider looking for a permanent job, we can help with that too! Using a staffing agency comes with many benefits, like assistance with licensing and experienced recruiters who know the market and have inside access to healthcare organizations across the country.
Here are ten reasons why you should use CompHealth to find your next permanent healthcare job.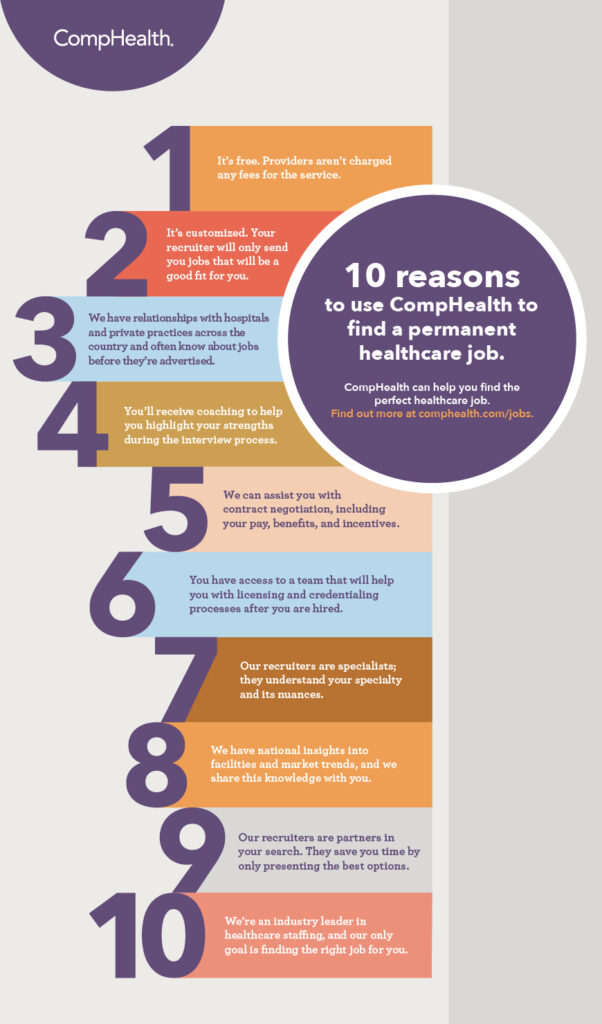 Read more about the top 10 reasons why CompHealth is perfectly positioned to help you succeed in your job search and in your career.
#1 We provide everything it takes to place you in a full-time permanent position that's a good fit and sets you up for success. And it's free for you.
"One thing providers ask me all the time is, 'Is this all free?'," says Deborah Guzman, CHG account manager. "They're blown away that all this time and expertise they're receiving from us is free. It's free to providers because our clients pay us when we find the right providers for their needs."
#2 Our services are customized. Your recruiter will only send you jobs that will be a good fit for you.
We work specifically with you to learn about where you want to live, what type of practice environment you're looking for, and any other requirements you have. We listen to your must-haves and your nice-to-haves. We cater around special considerations too, such as if you're looking for a position that will provide you with student loan repayment reductions or offer good schools for your children. And those are the jobs we'll steer your way.
#3 We have relationships with hospitals and private practices nationwide and often know about jobs before they're even advertised.
"Most of our hospital and health system partners have ongoing recruitment needs, so we've got relationships with the recruitment directors, hiring managers, and clinical decision makers," explains Anthony Jabara, CHG business development executive. "The hiring managers call us, and they trust us."
#4 You'll receive coaching to help you highlight your strengths during the interview process. In other words, we'll help you land the job.
CompHealth provides assistance with your CV, and then our recruiters help you prepare for your interviews, all while knowing today's marketplace. Sometimes they may even know the recruiters at these healthcare practices personally.
"Your recruiter will stick with you through the whole applying, interviewing, and hiring process to help ensure you receive those competitive job offers," Guzman says.
#5 We assist you with contract negotiation, including your pay, benefits, and incentives.
Our recruiters work across the country in specialized areas of expertise. We know what the typical salaries are for various specialties and regions, and we help you negotiate by knowing the marketplace.
"We can help you compare an offer in Oregon state, for instance, versus an offer in Texas, if you're considering those two areas," Jabara says. "We're knowledgeable on the varying living costs across the nation, like that Texas has no state income tax and Oregon's can be as much as 10 percent."
He continues, "We will help you negotiate offers and provide insights into what other candidates are seeking out or capturing in their employment offers. Having those insights is a real benefit to working with a specialty recruiter at CompHealth."
Negotiate like a pro: Learn how from the experts
#6 Our team will help you with the licensing and credentialing process.
With a new job, especially when moving to a new state, you'll need to get licensed — and you'll always need to go through the credentialing process. While we can't remove the paperwork, CompHealth will help you navigate the red tape in the most efficient way.
Our goal is to get you started at your new position on time and seamlessly as possible. "We also provide guidance for providers seeking immigration visa support," Jabara adds.
Want to work elsewhere? Find out if your state is part of the Interstate Medical Licensure Compact
#7 Our recruiters understand your specialty and its nuances.
You're going to get connected with recruitment experts in your field of medicine.
"This is key," Guzman says. "Each state has different laws for prescribing, for instance, and authority of what they can do, or the timing for what they can do, so having a knowledgeable recruiter matters."
"If you're working in psychiatry, for instance, your recruiter understands psychiatry. So, if you know that you're looking for a psychiatric practice that does MAT, your recruiter knows that's Medicated Assistant Treatment. Each recruiter is specialized in their areas and trained at understanding your language as a provider, the language of your clients, and of the job," she explains.
#8 We have national insights into facilities and market trends, and we share this knowledge with you.
CompHealth recruiters stay current with changes in the marketplace, including specialties and skills that are in demand. We can advise you on how to best stand out to take advantage of the most needed skills.
We also know the ins and outs of various facilities. We know what the culture is like, how they operate, and what will make for a good fit culturally — and we share that with you. Our relationships with the hiring managers at these facilities often give you an added edge during the hiring process.
#9 We place many types of healthcare professionals, from physicians to social workers.
In addition to helping physicians find the right job, we assist:
We have expertise and connections across all these fields to help healthcare professionals of all kinds find the right permanent jobs.
#10 We're an industry leader in healthcare staffing, and our only goal is to find the right job for you.
Our entire business is built on relationships — with our customers, with providers, and with people throughout the industry. We will only help place you in a position that meets your criteria — and that sets you up to succeed.
"We're going to stick by you until we find the right job for you, and until you start your first day," Guzman says.
Perhaps it never occurred to you to lean on the expertise of a staffing agency to find a permanent healthcare job. But we have the experience and are better positioned to help you than anyone. If you're ready to find a new permanent healthcare job, reach out to CompHealth today.
CompHealth can help you find the perfect healthcare job. Check out today's job opportunities or call 800.453.3030 to speak to a recruiter.