As the 
COVID-19 situation
 continues to develop, uncertainty about the future is taking its toll on everyone. One thing that
 is
 certain, however, is our resilience and ability to come together as a people in a time of crisis. A recent example of this is a surge of free products and services being offered to the healthcare professionals fighting coronavirus on the front lines. Here are just a few of the companies that are saying thank you and working to ease your stress during this crisis.
Child and family care
Care.com
: 
Childcare and other forms of family care have been a hot topic of concern for many healthcare workers as they transition into working longer hours and more shifts. Care.com is offering healthcare providers 
30 days of free, premium access
 to their website, which offers an array of services that enable families to find, manage, and pay for childcare, senior care, and pet care.
Meal Delivery
With restaurants and dining options dwindling due to mandatory closures, many healthcare workers are finding it a challenge to find the time and places to eat. In a show of solidarity, several businesses have started offering free meals and delivery to hospitals and clinics on-site as a way to show their appreciation and help alleviate stress.
Uber Eats
:
 Uber has committed to 
delivering over 300,000 free meals
 to healthcare workers and first responders in the U.S. and Canada who are helping combat the coronavirus pandemic. According to an Uber press release, interested organizations should email 
social-impact-support@uber.com
.
Starbucks
:
  To show their gratitude for the work the medical community is doing, Starbucks will be offering
free coffee
(tall brewed, hot or iced) to COVID-19  frontline responders now through May 3.
Krispy Kreme
:
 Beginning Monday, March 30 (National Doctors' Day), and every subsequent Monday through National Nurses Week (May 6-12), healthcare workers can go to any one of the Krispy Kreme drive-thrus to pick up dozens of their
iconic glazed donuts for free
.
Sweetgreen
:
 The healthy eats restaurant chain has also announced it will start dedicating Outpost operations and teams to support healthcare workers on the frontlines by 
delivering free salads and bowls
 to hospitals in the cities it serves. Those cities include Washington, DC, Philadelphia, Boston, New York City, San Francisco, Los Angeles, Chicago and Houston.
&Pizza
:
 In the comfort food category, &Pizza announced last week that they will start offering 
free, unlimited pizzas to healthcare workers
 and their immediate families as a way of giving back.
Verb Energy
:
  For healthcare workers needing a quick snack to give them a boost, Verb Energy is giving a 
free bag of caffeinated energy bars
 to anyone in healthcare working long hours in a hospital.
Medical apparel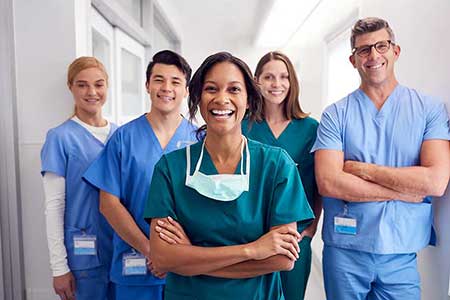 Figs
:
 The medical scrubs provider has said they plan on 
donating 30,000 scrubs
 over the next two months to hospitals in the U.S, and are also exploring ways to help providers in other areas such as coordinating donations for meal services, childcare, and care packages for healthcare workers on the frontlines.
Clove
:
 Although not widely available, this company that specializes in footwear for healthcare providers has been surprising teams in hospitals around the country with 
free sneakers and compression socks
 in recognition of the hard work and long hours healthcare workers are putting in.
Allbirds
: This San Francisco-based shoe company, known for producing environmentally friendly shoes, has committed to 
donating a pair of their Tuke Matcha Wool Runners
 (while supplies last) to all U.S. healthcare providers working on the frontlines of coronavirus.
Crocs
: The healthcare community has long embraced Crocs for being comfortable during long hours on their feet as well as easy-to-clean, and now they can embrace them even more.  The company is offering a free pair to any healthcare worker on the frontlines of COVID-19. Every day at 12 p.m. ET, you can order
a free pair of Crocs online
until they meet their daily limit.
Housing
Airbnb
: Having a safe place to stay that is also close to their patients is a priority for many COVID-19 healthcare providers. Airbnb is working closely with their network of hosts and partners to ensure providers have the necessary housing support they need. In addition, they have pledged to
waive all Airbnb fees
for healthcare providers, relief workers, and first responders who book on their site. In a world that has been completely turned upside down, seeing companies making a pledge of support to our healthcare workforce is both uplifting and inspiring. Even the smallest gestures to say "thank you" can make a difference and bring a little reprieve to those who are working so hard to protect all of us.
Have you heard of a free offer for healthcare professionals? Share in the comments below.