CompHealth prides itself on finding the perfect jobs for its providers but in addition to finding jobs sometimes our employees find themselves stepping in to help providers in other ways.
Hometown Attention
Hospital Privileging Coordinator Julie Perrine noticed a physician she whose privileges she was working on would be in her hometown of Mt. Vernon, OH over the holidays. Realizing she would be visiting home at the same time she scheduled a time for them to meet in person. She also shared great local places to eat and things to do while he was in town.

Getting Recommendations
Our employees good deeds are not limited to just the providers working for us. In one situation we had a physician who was waiting on a final recommendation letter from a physician colleague in order to get a new state license. The recommending physician was extremely busy and having a hard time filling out the paperwork. While interacting with our licensing group he casually mentioned that the physician he was doing the recommendation for owed him sesame chicken for all the favors he was doing for him. Once the paperwork was complete, as a thank you the licensing coordinator placed a delivery order for sesame chicken and rice from the doctor's favorite local restaurant and sent it on the physician's behalf. Both physicians got a kick out CompHealth "paying his debt" and for going the extra mile to ensure the physician got the license he needed.
Appreciation for State Licensing Boards
State licensing boards are some of the busiest people around and we deal with them every day. As part of those interactions CompHealth's licensing team often finds time to show their appreciation for what the boards do. Whether it's having doughnuts and coffee delivered or sending a thank you to someone who helped speed a license along the licensing team is constantly showing they care.
Broken Leg On Assignment
One physician on assignment in Utah broke his leg while mountain biking. Members of his CompHealth team visited him and brought him a get well basket. Years later he still remembers that extra bit of attention.
Support During Illness                                       
On a more serious note, several times CompHealth providers have received news of a loved one being diagnosed with serious illness or disease. In these cases not only have they worked quickly to get those providers back home they have also gone above and beyond in providing thoughtful care for those providers and their families. In one case, a physician recruiter with the help of his wife and grandmother to make a quilt for a provider whose husband had been diagnosed with cancer. The recruiters team came together to create motivational quilt squares with his relatives coming together to finish the quilts. Upon receiving this show of love the provider expressed heartfelt thanks and built a lifelong connection.
Physician Brings The Ice Cream
CompHealth employees aren't the only ones getting in on showing their appreciation for others. Our providers get in on it too. At an assignment last year in Idaho, a visiting CompHealth locums physician noticed the nursing and clinical staff were down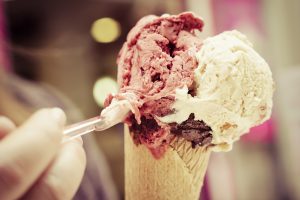 a few people and having a really stressful day he went and bought the group ice cream to help boost morale and give the staff a mid-day pick-me-up. The clinical coordinator was so impressed she sent CompHealth a thank you note appreciating what the doctor had done. These are just a few examples of what CompHealth's employees do every day in addition to finding and filling jobs for healthcare providers and facilities around the country. Interested in having your own CompHealth experience?
Check out our open jobs.