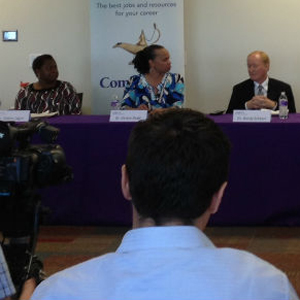 Earlier this week, five locum tenens physicians flew in from around the country to spend a day at CompHealth's headquarters in Salt Lake City. Our guests included:
Dr. Olabisi Jagun, emergency medicine
Dr. Deidre Redd, physical medicine & rehabilitation
Dr. Randy Scheen, dermatology
Dr. Margaret King, nephrology
Dr. Norval Leon Books, family practice & hospitalist
The day started with the physicians meeting face-to-face with their specialty teams, as well as the behind-the-scenes people coordinating their locum tenens assignments. Afterwards, they made a special appearance at the CompHealth Leadership Summit to provide first-hand perspective on all things traveling. They also spent time with our in-house marketing department, most graciously allowing us to pick their brains to our heart's content. Here are a few memorable takeaways:
On making the decision to work locum tenens:
"My wife and I always wanted to travel. I figured, let's do it while we're still young and healthy. It allows me to practice medicine and not have to worry about anything. After work, I can go to a national park and watch the sunset." -- Dr. Books "Physicians say to me that they can't wait for their lives to settle down so they can travel. I figured, why wait? I love being so free." -- Dr. King
On making a difference
"I wasn't able to serve (in the armed forces), so working locum tenens government jobs lets me give back; I get to take care of vets." -- Dr. Scheen "I see emergency patients, but I also see patients who don't have anywhere else to go. Whether I'm in inner-city Washington, D.C., Appalachia or Uganda, I see people who fall through the cracks." -- Dr. Jagun
On job security
"I have more certainty than my friends in hospital-owned practices. They're wondering if they'll still have a job next year; I'm wondering about where I'd like to go next." -- Dr. Redd These inspiring, adventuresome individuals also told stories that were both laugh-out-loud hilarious and heart-wrenching, some of which I will share in future posts. Ultimately, this experience has left me with an even deeper appreciation for locum tenens and the widespread impact they are making on patient care in America and beyond.