Occupational therapist Nick Schneider's desire to help people has driven his entire career. From graduating the
University of Cincinnati's School of Social Work
to his fieldwork in transitioning at-risk youths into fully functioning adults to achieving an advanced degree in occupational therapy from
Xavier University
, his purpose has been to make himself better at making life better for others. Nick's experience in social work seemed like a natural progression into an
OT career
. Nick originally considered getting into hand therapy. However, hand therapy certification requires three to four years of OT experience and 4,000 hours of specific hand and shoulder clinical work that, right out of school, he didn't have. Employers "all wanted you to have the certification already," he says, making getting his foot in the door difficult.
Help finding the first OT job
His decision to go a more generalist route didn't make finding his first occupational therapy job substantially easier, though. Even after he partnered with CompHealth recruiter, Frank Martinez, there were hurdles to overcome. But in Frank, Nick had found a recruiter determined to locate a good launching-pad job for his OT career. "Frank was always emailing me," Nick says, "his communication was great. I really appreciated what Frank did for me, and I was so appreciative of how he stuck with me through that period. I got a lot of personal support. He really cared about me as a person and didn't just try to place me somewhere and get whatever amount you guys get for that. He stuck with me, talked me through it, kept me on board, and presented me with options." It was helpful that Nick was flexible and said he'd go wherever a great job awaited him. Their teamwork paid off. Frank found Nick an OT opportunity in
Mena, Arkansas
where Nick stayed almost two years, having what he called a "great experience." Nick married, returned to his home in the Cincinnati, Ohio area, and joined a large hospital system as an occupational therapist.
A thriving OT career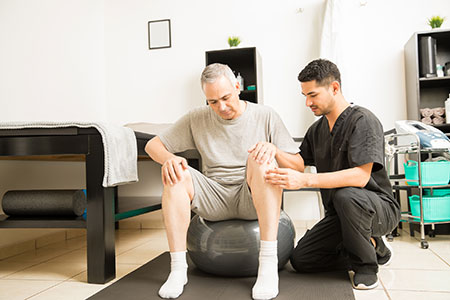 "I am in an acute care hospital setting, dealing with any kind of acute illness or injury," he explains. "It is kind of a triage for therapy to determine if the patient can go home independently, if they need to go to rehab somewhere, and what level of rehab is then needed — sub-acute, acute, or LTAC. We also work with patients while they're in the hospital to increase their independence as much as we can." For those starting out in occupational therapy, Nick shares two pieces of advice that worked for him. "That first year when you're starting out, go wherever you can. Try to get the experience you need because you'll thank yourself later for doing that." Secondly, Nick says, "Find yourself a mentor as soon as possible that you can really connect with and feel comfortable asking a lot of questions of." What's in Nick's future? He says he has considered working as a travel OT someday. "My wife and I have been talking about it and, with occupational therapy, you are so flexible and you can work all across the country, no problem. We had talked about trying to do some travel OT for maybe a year or two within the next five years or so."
If you're looking for your next — or even your first — OT job, CompHealth can help. Give us a call at 800.453.3030 or view today's occupational therapy job opportunities.