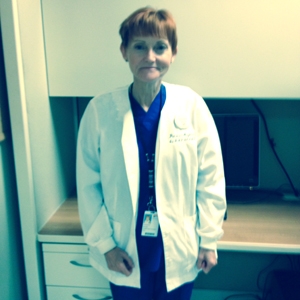 A career as a
nurse practitioner
took Patricia Maybee to the other side of the world — and a locum tenens assignment helped her come back. Here's how a temporary assignment helped her to find a permanent position, as well as a passion for tribal healthcare.
Choosing a Career as a Nurse Practitioner
After working 15 years as a critical care nurse, Patricia Maybee decided she wanted to take a different approach to medicine. "I'd been a critical care nurse for a long time, and I wanted the autonomy and the ability to help people in prevention of disease," she says. "I wanted to shift from a focus on medical care to focus on healthcare — there's a difference." So she became a nurse practitioner. And she instantly fell in love with the opportunities. "It's the role and career I was born to do," Patricia says. "I'm in
family care
, and I love the cradle-to-grave aspect. I like to really know families, from the infant to the great-grandmother. It is a wonderful opportunity to provide comprehensive, proactive, community-based healthcare."
To New Zealand and Back Again
After receiving her nurse practitioner certification, Patricia took a dream job in New Zealand, working in student health and teaching in the graduate NP program at the University of Otago. However, New Zealand's frequent earthquakes, combined with the desire to be close to an ill friend back home, made Patricia decide to return to the U.S. "I came back from New Zealand and I didn't have a job," she recalls. "I knew I wanted to be nurse practitioner, but I didn't have any preconceived notion of where I wanted to go or what I was going to do." She turned to CompHealth for help. She had been exposed to the staffing company through her work with the
American Association of Nurse Practitioners (AANP)
, but was leery CompHealth wouldn't live up to its promises. "There's what you read online, and then there is actual practice. People can tell you anything, but is it really true?" Patricia asks. "I felt like working for CompHealth was true. They were so helpful in exploring opportunities, helping with my licensure, and getting my final job package together. They were just marvelous."
Working in Native American Healthcare
Because she was living in Arizona, Patricia and her CompHealth recruiter explored opportunities at nearby Native American healthcare facilities. She first accepted an eight-month assignment in the Navajo Nation. "The [Navajo] community can be very poor. You don't recognize that in our own country, there are folks who do not have running water, who do not have electricity, who drive cars on roads that are just barely roads," she says. "The Navajo people are absolutely marvelous — their family structure, their care for each other, their extended families, their incorporation of culture and language into their family life. It was a wonderful experience." She enjoyed the experience so much that she eventually moved from temporary locum assignments to a full-time position at another Native American healthcare organization. She encourages any NP who is thinking about such an experience to give it a try. "Don't let preconceived notions guide you into what you think Native American health might be," she advises. She also stresses the importance of coming prepared with strong clinical skills — specifically around diabetes and the associated complications — and an open mind. Additionally, Patricia recommends being adaptable, looking at all the available job opportunities, and using your locum recruiter as a resource and an advocate. If you do, she says, "It can be a wonderful experience."
Click here for open nurse practitioner jobs
.