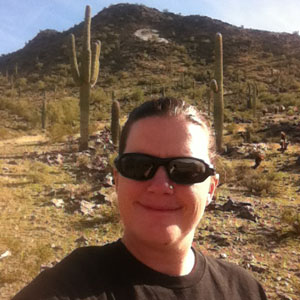 Sometimes you just need a break from winter. On her latest traveling PT assignment, Stacy traded the East Coast snow for some Arizona sun. After taking her first traveling assignment in 2008, she's now spent more than five of the last 10 years taking temporary
physical therapy jobs
across the U.S. We checked in with her to find out why she decided to give travel assignments a try and why she keeps coming back for more.
What initially drew you to travel assignments?
I enjoy traveling throughout the country and getting the opportunity to go places that I may not visit otherwise. Since most assignments are only three months, I know that if it is not the right setting for me, I just have to stay for a little while and then I can move on.
What has been your favorite assignment so far?
My favorite assignment throughout all my traveling experiences has to be spending the fall on Cape Cod. The weather was amazing, it wasn't as crowded with tourists as in the summer months, and I was able to experience a lot of the culture of the Northeast being so close to Boston and Providence.
RELATED: 
 Enjoying the Finer Things through Traveling Physical Therapy Assignments
What do you do in your spare time?
On my current assignment, I enjoy sightseeing around the area, whether it's exploring the Old West in Tombstone, Arizona, or just walking around downtown in the city center, taking photos and checking out the local culture. I try to stay as active as possible but on days when I need a break from "traveling," I enjoy relaxing on my couch, watching movies and football.
How do you find people to hang out with when you are in a new location?
Sometimes I use social websites like Meetup.com, but mostly I just go to different places and meet people — whether it's at a local restaurant or sporting event — or I will do things with coworkers.
Sometimes being a traveler is about being secure enough with yourself to do things alone and not feel awkward walking in to a restaurant and just sitting at the bar. 
What advice do you have for other travelers?
Just take advantage of wherever you are, see the sights, do something you may not normally do.
Step out of your comfort zone.  If you don't like it, then you can at least say that you did it!
SEE ALSO: 
Why Traveling is a Great Idea for Recent Physical Therapy Grads
Why do you choose to work with CompHealth?
I have had the best experience working with CompHealth. Every person I have ever interacted with has been great and very helpful throughout the entire process. My provider rep and licensing specialist have always been there when I've had questions or issues with obtaining items for my license. They make my experience as a traveler so stress-free—it's fantastic working with them.
Click here to check out open physical therapy jobs.